Challenges
The research in both rounds was carried out at three different European scientific hubs (Berlin, Linz, Valencia). Each hub was dedicated to one of these areas of research – we called them challenges.
From analog to connected
(Hub Berlin)
The integration of electronics into textiles enables new potentials of how we communicate in the future with each other in the post-smartphone era and to find new ways of interaction between the human body and its environment.
This local research hub focusing on electronics and textiles was set up with WearIt Berlin, Fraunhofer IZM with the help of Stratasys and Profactor developments. Artists gained the possibility to create smart fashion and together with researchers developed new ways of electronic modules, special textile electronic interconnected devices for enhancing flexibility and conductive paths. It was aiming to find novel ways of merging "smart" functionalities with creative textile design and challenging the technical researcher with visions not addressed by now.
A basis for the first was the provisioning of a set of miniature, highly functional electronic module building blocks with an easy interconnect scheme and adapted power supply features. The expectation for the second was that beyond the technology modules, novel challenges will be formulated enabling the technology researchers to look creatively beyond their current state of the art.
Novel approaches within Re-FREAM like stretchable breathable circuits laminated to the fabric and direct printing to of conductor lines with e.g. silver filled polymer pastes enablee creative design. UV curable conductive inks were being optimized which address the issues of structuring, scalability and environmental concerns. Novel circuit board concepts for nonwoven fabrics were being assessed and made available.
Locality and sustainability in the creative and technological process was part of the joint cooperation.
The goal was to integrate eco-design into the creation of an art-piece, in order to reduce the environmental impact through eco- design recommendation already in the idea and development phase and to help artists to take more environmentally friendly decisions when creating a high-tech art piece.
This objective also underscored the concept of a resource- friendly urban manufacturing on-demand, which strengthens the local sourcing, manufacturing and customer basis.
These awarded projects used the technologies in the hub: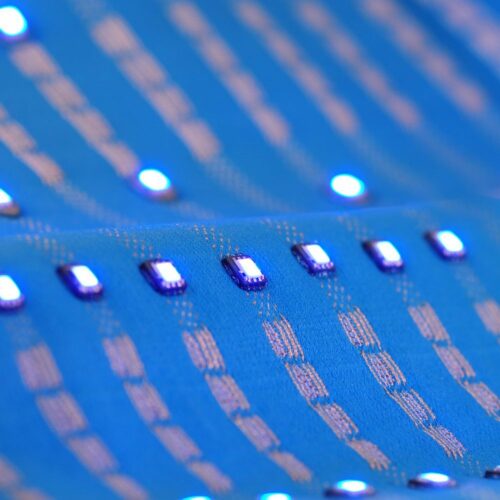 Technologies used in this hub:
Conductive printing technology
Simulation of human thermal sensation and physiological response
Thermal sweating manikins and instruments for characterisation of wearing comfort
Integration of electronics into textiles
Flexible, soft and elastic textile-integrated conductors
E-Textile hardware
Support in eco-design and physical computing
3D Printing – PolyJet of conductive materials only with Profactor
Scientific partners working in this hub:
Fraunhofer IZM
Profactor
EMPA
From 2D to 3D
(Hub Linz)
Traditionally, the predominant use of textiles as fashion materials has led to the development of 2D pattern-making methods for dressing the complex shape of the three-dimensional human body. Nowadays, digital design tools allow us to easily design and 3D print complex shapes for the human body.
This research hub focused on the PolyJet technology from project partner Stratasys. This technology is similar to the well-known ink-jet printing processes but uses curable liquid acrylic-based photopolymer resins onto a build tray to build up 3D structures. With this technique it was possible to build up objects by additive manufacturing, also commonly known as 3D printing.
The goal of this research hub was directly printing of clothes and fashion articles. The development of a virtual software guide for 3D printing fashion products enabled artists and interested people the facilitated use of modelling for 3D printing with the PolyJet technology and other technologies.
The design software guide is the international standard tool for fashion designers for development and production of 3D printed fashion products.
These pioneering projects used the technologies in the hub: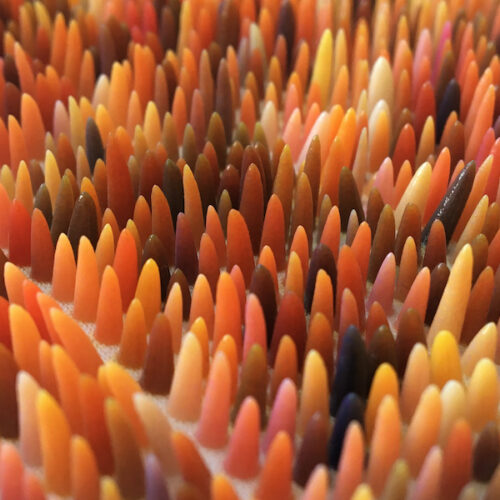 Technologies used in this hub:
3D Printing – PolyJet
3D Printing – Fused Filament Fabrication (FFF)
3D Printing – Stereolithography (SLA)
Body Scanning
Laser Cutting and Engraving
Vacuum Casting
Injection Molding
Design modeling software
Scientific partners working in this hub:
Profactor
Stratasys
Haratech
UFG
EMPA
From linear to sustainable circular systems
(Hub Valencia)
Nature works in cycles - nothing is wasted, everything is reused. In contrast, the textile industry operates in a linear way, leading to extreme wastefulness and pollution.
The main goal of this local research hub focussing on eco-innovative finishing in the textile, clothing, leather and footwear (TCLF) sectors was to develop new eco-innovative finishing techniques that allow the artist to create novel products by applying new nebulization and laser technology finishing treatments directly to the end-products/articles.
The objective of this hub was to develop finishing techniques that combine the application of the finishing treatment directly in the end-product/article, allowing the total customization of the garment under the concept 'one person, one garment'.
A second objective was to use new finishing technologies more environmentally friendly (less water, chemical products and energy consumption ), therefore the technologies to be developed will combine the use new finishing treatment applied to end-products/articles, less contaminant techniques and customization of small series of products.
These awarded projects used the technologies in the hub: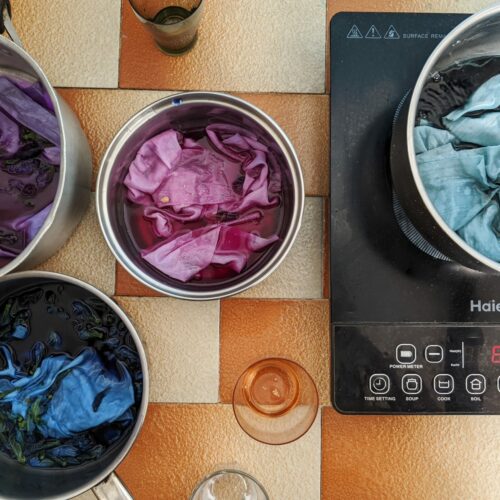 Technologies used in this hub:
Simulation of human thermal sensation and physiological response
Thermal sweating manikins and instruments for characterisation of wearing comfort
Ozone Technology ​ (colour fading)​
Laser Technology
Micro-nebulization Technology​
R+D Garment finishing laboratory with ECOFinish technology
3D Printing on textile – PolyJet, FFF, SLA only with Profactor
Scientific partners working in this hub:
AITEX
Care Applications
Profactor
EMPA