On the surface, New Blue is a very fashionable recycled denim collection, yet its ambitions reach much further. The co-creation project initiated by Tim van der Loo and Sandra Nielsen aims to transform our relationship with waste, to interconnect not just fibers, but systems and people in new ways. For van der Loo and Nielsen, material innovation is rooted in infrastructures and value systems.
The circular project uses local denim waste as a resource. To obtain the existing fabric – using Berlin's Textilhafen – was the starting point. Then the discarded jeans were cut apart and shredded. Soaking, mixing and flattening the shredded fibers causes them to interlock, resulting in non-woven new textile surfaces of a soft fleece-like material. The duo explored the creation of both industrially produced nonwovens and hand-crafted textiles. The latter involved their own hands turning blue while spreading and mixing the materials, and resorting to such low-tech utensils as a kitchen mixer and filtering the water with coffee filters for careful re-use.
Next, digitally-aided industrial embroidery was applied to the fleece, to both create a more stable fabric and also generate the patterns needed for the final piece of clothing. The embroidered areas of the fleece hold up when exposed to water, whereas the non-embroidered parts wash away. These loose denim fibers can be reused as raw material, while the embroidered parts can be sewn together without further cutting: a circular production method with zero waste.
The Re-FREAM collaboration enabled new research into a wide variety of eco-finishes for the produced textiles and garments. Combined with micro-nebulization, the project resolves major challenges regarding the scalability of garment production repurposing denim waste, both unifying different textile compositions, and aesthetically refreshing them.
By using the ECOFinish micro-nebulization system of Care Applications, the team produced 45 samples of reclaimed materials for finishing, and selected four different finishing treatments. The research was key in understanding how the material reacts to different treatments in terms of shrinkage and fiber loss. Nebulization offered a non-polluting washing, dyeing, and finishing option for the garments, with no waste. The final garment collection was tailored in Berlin: a boilersuit, two different hats, two jackets, one pair of pants, two shorts, and a cross body bag. The garments were dyed in Valencia and produced in 3 different New Blue materials: New Blue Industry Basis, New Blue Craft Basis, New Blue Craft Black. Then zippers and buttons were then added in Berlin.
Giving waste new value is a potent transformation. While fashion design aesthetics can render the materials desirable, eco-finishings can play a strong part in transcending the sense of dissatisfaction that inhabits discarded materials by refreshing and embellishing the textiles.
The project saves textiles from landfill, but also reduces the demand for new textiles. By repurposing waste, the energy and water invested in the growing of materials and previous manufacturing processes are also conserved. The New Blue project offers an exemplary circular alternative for garment production, positioning jeans as just one stage in a cycle.
Building their supply and production chain has been a key activity of the ReFREAM program. The project and the design studio A New Kind of Blue has received international acclaim, ranging from the German Federal Ecodesign Award in 2020 and wide coverage in publications like WGSN, Noroo and Heimtextil. In July 2021, the project was exhibited in the All Good(s) program from the Embassy of the Netherlands in Berlin at Martin Gropius Bau, receiving the attention of the Queen of the Netherlands. Several fairs invited the duo to showcase the work, including the Sustainable Innovations exhibition of the Munich Fabric Start fair. It was also featured during Berlin Fashion Week, the Wear It Innovation Summit, Ars Electronica, and Dutch Design Week.
The studio envisions not just the production of collections, but functioning as a platform to create solutions and bridges between different stakeholders. Their main aim, they explain, is to create awareness and change: "We would like to make a living without compromising, and hope to collaborate with small brands and set up a sustainable hub".
The Project
Tim Van Der Loo and Sandra Nicoline Nielsen build on an existing fabric created as part of the circular garment project A New Kind of Blue, further developing the material with treatments and finishes using different cutting edge technologies in the dyeing and finishing process.
Tim van der Loo and Sandra Nicoline Nielsen take two approaches; working with craft, enabling independency with DIY tools, machines and techniques and working with the industry, meaning to collaborate, translate and to develop user items for bigger scale. Working within industry is set out not to design something new but to redesign the material that was wasted before and keep it out of being wasted.
The Partners
The duo is based in Berlin and worked with the Valencia Hub. Partners  Care Applications and Aitex. They also collaborated with fashion designer, Sophia Wameling, and to finalize the patterns and sew the final prototypes, with Gravitex (Silvia Wald) for patterns and Tino König for sewing, and Textilhafen Berlin for waste resources.
The Technologies
Discarded jeans are cut into small fibers, soaked and shredded, then bonded to form a fleece. Then digitally-aided industrial embroidery strengthens the fleece, as well as defining the pattern shapes needed for the final piece of clothing.
Another bath washes away the non-embroidered parts of the fleece – the discarded denim fibers can be reused as raw material. The embroidered fabric can be sewn together without further cutting, establishing a circular and zero waste production method. The micro-nebulization of the garments allows for no-waste dying process.
Miriam Martínez, Aitex, about the project
"Circular projects such as New Blue are crucial for the future of fashion. It is time for designers to look into waste as a resource and to transform fast fashion trends into long-life processes. 
Sandra and Tim are a perfect example for that approach, and with the Aitex and Care collaboration, they gave denim waste a second life. The co-creation with them was very fluid, as they have clear objectives as well as open minds. They consider the whole process, thinking not only about the product itself, but also about each step of their environmental footprint."
The Artists
Tim van der Loo is a material and product designer – based in Berlin, born in the Netherlands – using post-consumer resources to develop new surfaces and structures. Even though his main concern is sustainability, he cares about bringing a contemporary aesthetic to recycled materials. His works are reflections of a playful approach to the function and matter of objects for everyday use. The methodology used in his practice is to work with waste as a resource.
Follow Tim
Sandra Nicoline Nielsen is a Techno-Anthropologist with a pertinent focus on making circular economy a reality. She has partnered up with Tim van der Loo to develop people- and environment centered solutions on post- and pre-consumer textile waste. It is fundamental for her to approach design innovation as creating new long term, sustainable solutions. This entails prioritising the use and end-of-life of the product from the very outset. Waste should be eliminated where and to every extent it is possible, while embracing people within the different steps of the system.
Follow Sandra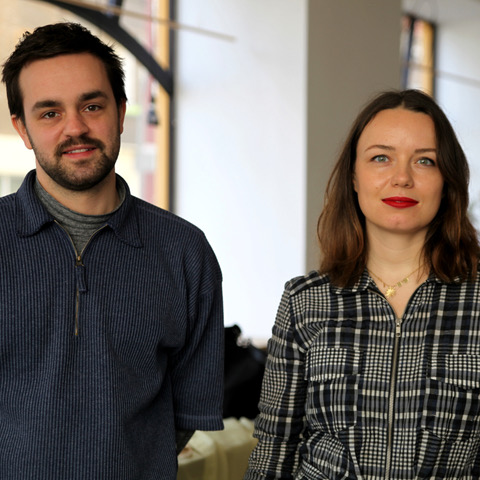 Blog Posts
MIXING ART & TECH The combination of technicians and artists gave a unique point of view for the projects developed during this nine-month co-creation period. From Care Applications we accompanied four artists from the Hub: "From linear to sustainable circular …