AFTER 2 ROUNDS OF 9 CO-CREATION MONTHS
MIXING ART & TECH
The combination of technicians and artists gave a unique point of view for the projects developed during this nine-month co-creation period. From Care Applications we accompanied four artists from the Hub: "From linear to sustainable circular system" on their journey to develop their own projects along with other technological partners.
On our side, we offered ECOFINISH technology, a system that respects the environment, because through the nebulisation we can save large amounts of water and chemicals, as well as the energy consumed and wastewater discharged. As it is well known, the textile industry is positioned second in the most polluting sectors ranking and taking this into account Care Applications was born from the passion to create a company that takes care about the product, the client, the worker and the environment. Innovating equipment and technology that is installed in old washing and dyeing machines from the textile industry which processes ready-made garments. These machines that the client has in their plant are updated and modernised by installing the modular accessories developed by Care Applications. We believe in the circular economy and for this reason, we reuse the client's existing machines, adapting them to have a new, more ecological and sustainable life, reducing consumption of up to 90-95% compared to conventional processes.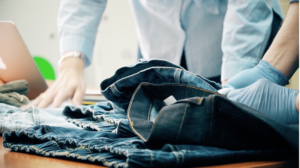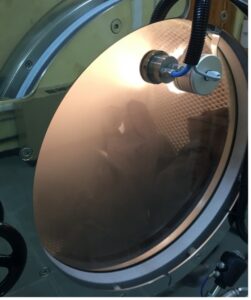 Images 1 & 2. Care Applications' facilities.
ECOFINISH technology creates a mist inside industrial washing and dyeing machines using only what the garments are able to absorb and, in this way, we avoid wasting water and auxiliary products from the washing and dyeing processes. Through this sustainable technology, two lines of work were opened with the artists of the first call, Elisabeth Jayot and Fabio Molinas; and for the second round, with the artists Alexander Bello and his NeoBotanical Tailoring project and Tim van der Loo and Sandra Nielsen with their New Blue project.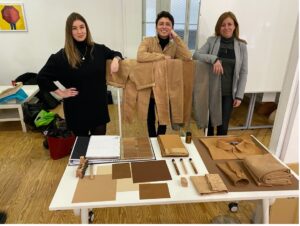 Images 3. Mid Term Meeting – Fabio Molinas & Care Applications.
Fabio Molinas' project is about the development of a vegan leather, products which are cruelty free and that respect the environment using cork as the base material. The work way that was opened in the co-creation project with Fabio Molinas starts with the challenge of verifying that a solid material such as cork was susceptible to being sprayed and applied to ready-made garments. Since cork particles have a lower density than water and a very good waterproofing feature, cork floats and does not get wet. But after initial trials, it was determined that the ECOFinish nebulisation technology could work with the material. Different tests and trials were carried out to develop a quality process and a recipe that would allow cork to be included in a ready-made garments as a final aesthetic finishing. After a long co-creation process, the desired finishing was successfully achieved and the ECOFinish technology has been upgraded.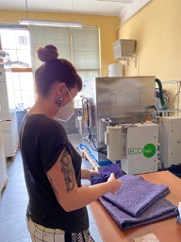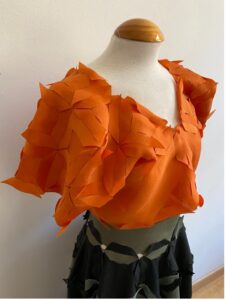 Images 4 & 5. Elisabeth Jayot in Care applications' facilities and prototypes.
Equally, Elisabeth Jayot has developed a pattern making method based on zero waste and by assembling different pieces of fabric, garments are created that can gradually modify their appearance. Together with Elisabeth, an exhaustive analysis of a large selection of different fabrics was carried out for her project "Fragment Garments". The objective was to find a series of fabrics ready to be dyed for each of their silhouette designs and then, to dye the square pieces in the desired colour on demand. Through the nebulisation process, the ECOFinish system was used to obtain different results: dyeing with natural dyes, silk dyeing process, wool, cotton and Piñatex; finishes such as waterproof were also applied for the coat. Another line of research focused on the dyeing of the 3D parts from our tech partner Profactor. This option helped the concept of customisation and small batches on request, being able to dye the 3D material together with the fabrics to obtain the same colour or have them in stock and dye them depending on the seasonal colours. In this line of research, we obtained very good results, achieving fully dyed pieces with optimum quality. All this co-research and co-creation work resulted in a wonderful collection. Also, there was a collaboration between artists with the development of a "Fragment Garments" model with cork fabrics by Fabio Molinas.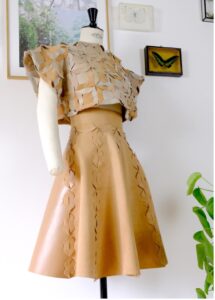 Images 6. Elisabeth Jayot & Fabio Molinas' prototype.
In the artists second round, Alexander Bello wanted to develop a project in which to create, through technology and craftsmanship, unique and multisensory tailoring pieces. To carry out this project, an extensive study of different plants and vegetables was begun to proceed to make dyes from natural elements, an extensive study of natural origin mordants was also carried out for fabric preparation. Besides, Alexander made a study of essences to be microencapsulate. These microcapsules were nebulised with the ECOFinish device on fabrics previously dyed using this system. NeoBotanical Tailoring has been a very successful project since the natural dyeing process has been scaled. The natural dyeing process consumes a large amount of water and energy, but thanks to all the work done, a more ecological and sustainable dye has been achieved, ready to be industrialised.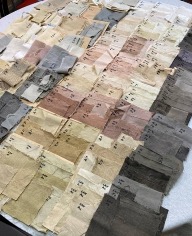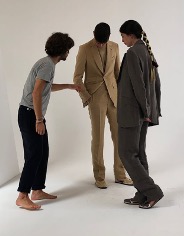 Images 7 & 8. Alexander Bello's samples and final prototypes.
And finally, the New Blue team, Tim Van der Loo and Sandra Nielsen, applied with a very innovative product developed previously by them. It is a textile material made from recycled jeans fibres. Thanks to the co-creation between the New Blue team, Aitex and Care Applications, an extensive catalogue was made with a large number of finishes and samples such as dyed samples, oxidation or resin finishes through ECOFinish technology. The aim is to reach a denim look into the new sustainable fabric and garments. To get to this point, numerous tests and trials were carried out, which resulted in a very innovative collection.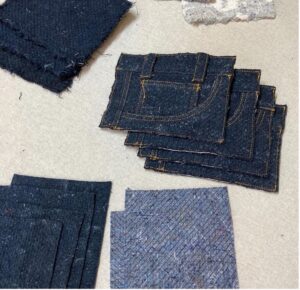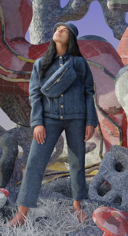 Images 9 & 10. New Blue project samples and final prototypes.
Care Applications will give the service to the artists for their future collections and projects being Re-FREAM the starting point of a long relationship between technologists and artists.