Mid term presentation of New Blue
On the 12th of April we had the mid term presentation! We arrived two weeks before in Spain with all our material we developed and had to work hard in order to show our work done here in the research institute.

We presented our project New Blue, a circular garment project. This is a circular denim fiber system in which old jeans are recycled and transformed into a new type of cotton material. New Blue offers a sustainable and truly circular alternative to the vast denim production and consumption of today. The life-cycle impacts of a pair of jeans are measured to have a total water impact of over 3,700 litres – per pair! The independence from virgin materials for the basic input material (only the thread is based on virgin organic cotton) allows New Blue to abruptly change the status quo of jeans production.




What we have focused on in our co-research has been how to expand on the colour range using sustainable technologies. We wanted to find a good approach to make a close to white version of the material, and a deep, darker blue. Moreover an important part of the co-research has been to get a better understanding of how the material reacts to different treatments in terms of shrinkage and fiber loss (as it is a non-woven textiles made of loose fibers).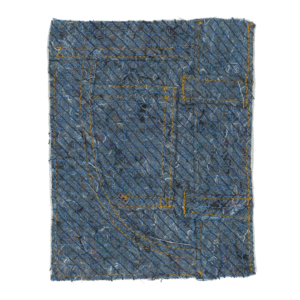 We learned that the processes are very complicated. Things have become quite complex. We definitely need to work on a better archival system of how to order the tryouts to create the best possible overview. We don't have a background in textile engineering. So we still have to learn about the different sides to finishing treatments.

The outcome of the co-research so far is that we have done around 45 samples with 8 different treatments across the different materials. The processes we have used have been based on sustainable and optimized technologies, using significantly less chemicals, less water, and electricity, than known from conventional industry processes.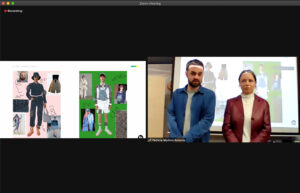 The presentation and the digital format was for us an exciting format to show all the other participants what we are working on. At the same time we felt that we were finally introduced to the projects from the HUB Linz and HUB Berlin. It was really good to actually see what all the artists are working on and see the connections between all the projects.

It was good to have all participants together and create an exchange between the works and disciplines they are working with. Especially interesting was the discussion between various HUBs about the matter of sustainability and innovation. Each HUB has their own vision according to innovation, technology and sustainability. It was good to discover what this means for each HUB and how we can supplement each other in many disciplines! We are looking forward to engaging more into the other HUBs and starting a cross pollination of expertise!