Ganit Goldstein navigates multiple dimensions at all times: transitioning between 2D and 3D, then dipping into virtual reality. The ornate surfaces of her designs reflect her deep concern with craft, scale, and volume. In collaboration with her Re-FREAM partners, she developed highly customized new design workflows, creating both upcycled low-tech and high end multi-color Polyjet printed garments. Along the way, pandemic travel restrictions also pushed her towards entering the territory of virtual fashion display – in couture splendor. Her 3D-printed garments appear in virtual space in all their precious detail: a highly tactile display of digital manufacturing, eager for its closeup.
The topographies of each of Goldstein's intricate designs are the result of a complex series of 3D CAD manipulations. First, she flattened the curves and nooks of body scans by Haratech. Then she combined parametric software to build unique custom patterns, based on the scans and inspired by traditional IKAT weaving.
The resulting reverse-engineered 3D model was infused with multiple color complexities, then directly printed onto fabric with integrated embroidery elements, and finally assembled into wearables. The kaleidoscopic kimono parts were printed by Stratasys in different locations, then seamlessly assembled without sewing.
In parallel, Goldstein hacked her own printers at home, to allow the insertion of the project developed through Stratasys, using upcycled materials.
The collection of seven 'WeAreAble' garments produced through two parallel processes are a spectacular combination of past and future techniques, allowing tailor-made garment manufacturing with unique materials, color complexities, and parametric patterns. Both develop new workflows for garments with multi-color Polyjet printing. As Goldstein explains, "there are limitations and freedom in both". The high tech methods resulted in stunning kimono styles by printing directly onto fabric, a new and innovative approach. These garments were assembled without any sewing. Her "working-from-home" low tech creations provide a proof of concept for the use of upcycled materials in 3D printing. The pandemic travel restrictions and the need to see the details from all the angles motivated Goldstein to further develop the project into a novel form of fashion exhibition, in virtual reality.
Goldstein's approach to digital manufacturing and the future of textiles is enmeshed in traditional systems of production of precious hand-made techniques, such as weaving and embroidery. By using her reverse-engineering methods, she bridges the link between digital and physical manufacturing, pioneering new levels of value and refinement for digital design processes. Her sophisticated software customizations allow for garment production tailored to the uniqueness of each body shape. Her low tech personalized garments provides a proof of concept for 3D-printing with upcycled materials, a major step forward for sustainable digital manufacturing.
The visually sensational Re-FREAM co-creation project garnered worldwide attention through exhibitions, and was highly publicized – including a nomination as the best experimental design by Fast Company. The project has driven her to explore new textile compositions required by new manufacturing techniques. After completing her MA at the Royal College of Art, Goldstein decided to delve into further material research with a Master of Science at the Massachusetts Institute of Technology in Boston. The link of manufacturing technologies with the virtual display of garments has also led her further into the cultural metaverse : "How can these technologies allow museums to make their collections – and history – more accessible?".
The Project
3D Printing & Crafts –  Hybrid traditional and futuristic techniques: WeAReAble deals with the making process of customized fashion designs, based on 3D body scans and parametric codes combined with multi-color 3D printing directly on fabric.
The project examines the border between future and tradition, redrawing the boundaries between hand-made and machine-made. In collaboration with: Haratech, Stratasys, Profactor , F&T department of University of Art and Design Linz.
The Partners
The Technologies
Goldstein used a series of 3D CAD manipulations to transform 3D body scans to 2D flat patterns, then built highly customized 3D designs with parametric software. The final results of this reverse-engineering process are multi-color 3D Polyjet printed garments.
The new workflows developed resulted in assembly through direct printing onto fabric, as well as a proof of concept for unique 100% sustainable garment production using up-cycled materials. The project culminated in a Virtual Reality display of the final collection, which has led the designer onto new paths of innovation.
Guillaume Clement, Haratech, about the project
"Ganit creates stunning designs by combing traditional and novel design and manufacturing techniques. She also steers the fashion industry towards new and more democratic workflows, by combining digital and automated processes – as well as using affordable desktop 3D printers."
The Artist
Ganit Goldstein is a fashion designer whose interest lies in the intersection between Craft and Technology predominantly working to incorporate 3D printing and scanning into 3D textiles. For her collections, Goldstein created garments and shoes, inspired by her study of Japanese 'IKAT' weaving at Tokyo University of the Arts. Goldstein graduated with honors from Bezalel Academy of Arts and Design focusing on the development of 3D Fashion, Shoes and Jewelry designs.
Goldstein's projects received great interest and immediate press recognition, presented at exhibition and museums around the world including: Milan Design Week, New York Textile Month, San Francisco Asian Art Museum, Munich Jewelry Week, Holon Design Museum and more.
Ganit Goldstein believes in an interdisciplinary approach to Design- mixing tradition and futuristic techniques for creating new design methods. Goldstein's projects include collaborations with research development teams and great companies. Her work includes collaboration with Stratasys 3D printing company for printing multi-color 3D printing shoes and accessories; Partnership with Intel 'RealSense' studio using 3D depth camera for customized fashion designs and AR/VR application; and a research workflow with Professor Shlomo Magadasi's Lab in the Hebrew University, for innovative research for 3D printing. With the use of cutting edge technology, in her collaboration with these technological companies Goldstein aims to push the boundaries of today's technology through innovation and creativity towards never-seen-before designs.
Follow Ganit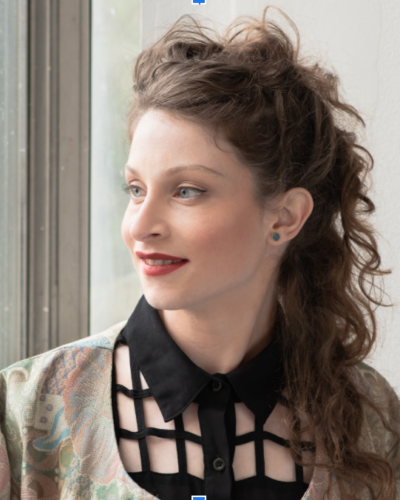 Blog Posts
As part of my research within ReFREAM project, I interviewed Guillaume (Haratech) and Sander (F&T) about the idea of using 3D scanning in the context of fashion design. They were both part of the process I worked on in Linz, …