Ganit Goldstein I S+T+ARTS exhibition I 'Ars Electronica' festival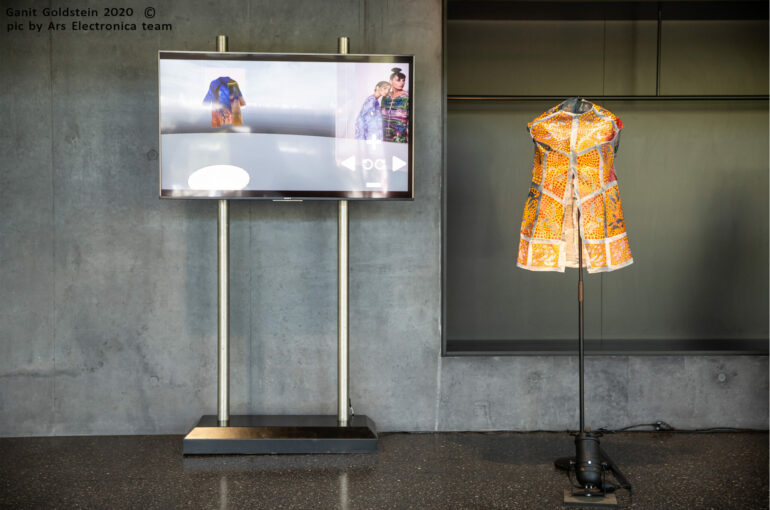 During 'Ars Electronica' festival, Re-FREAM results were reviled, showing the result of our 11 months of re-thinking the production of fashion from 2D to 3D Art & Tech research. Regarding my research outcomes, we present several outfits showing cases to produce fashion In relation to the 3D garment in virtual design tools, produces using 3D printing technology. The new textiles creations presented a unique material combination study within the soft and rigid material integration, using PLA and fabrics. It was extremely exciting to present one outfit in Linz during the physical exhibition part of the S+T+ARTS exhibition. It was a really great closer, as Linz was my home-hub within the Re-FREAM project, where I spend several weeks in the research team with Haratech, Profactor, and F&T department. The 3D printed outfit has been made in a home 3D printing process, with a multi-color 3D printed color changing option, printed directly onto the fabric, sourced from leftovers fabric factory. In these developments, I have been using multiple textiles tryouts, to see in which way the 3D printing process can be implemented in the best way.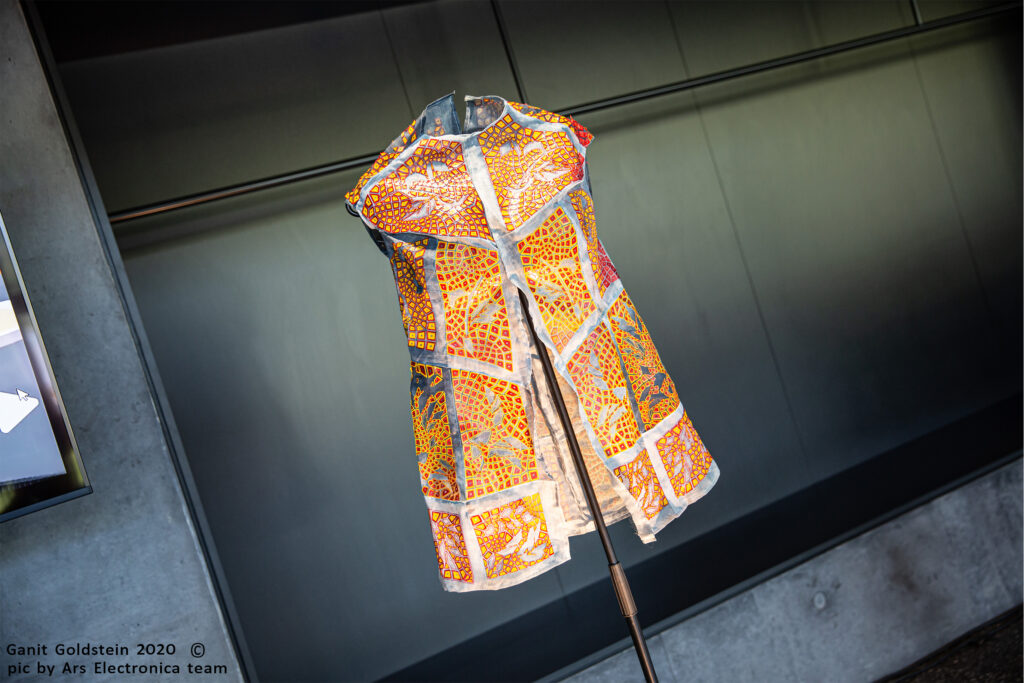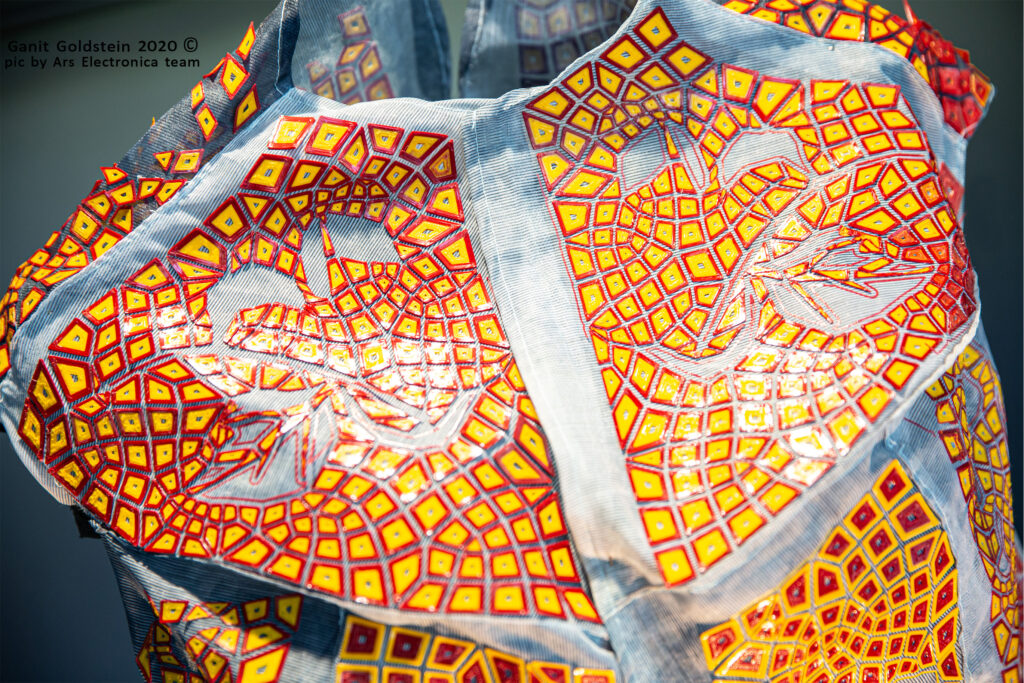 This process also involves the 3D body scan process, which worked together with Haratech. Programming the patterns using parametric software, allowing the ability to print onto the fabric different materials, as long with the combination of multi-color and multi-material process – entirely using a home 3D printer.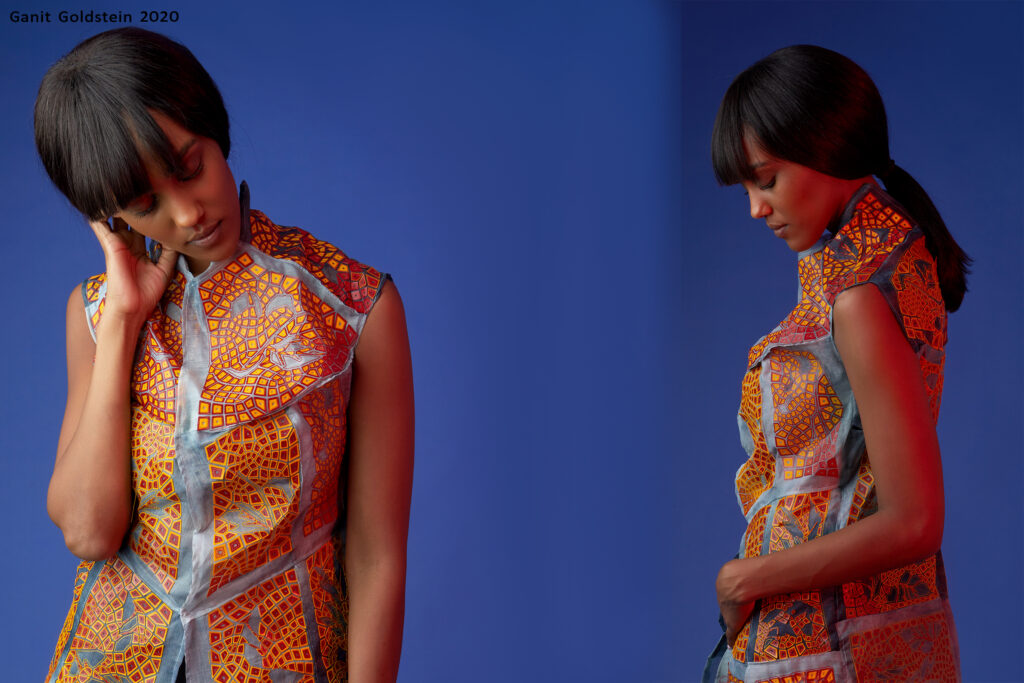 A new way to manufacture , DIY movement and the fast growth of 3D home printing
Working from home due to Covid-19 has teach me the importance of developing your own skills and independence in the creation process. Going back A bit to the reasons I started to work with 3D printing technology, and how it changed rapidly over the 5 years- In think that the ability to teach yourself processes from a DIY point of view is extremely important in our times. I have been working with home printers since my BA at the Bezalel Academy of Arts and Design in Israel. I was fascinated by the ability to have a relatively easy to use the machine, that I can design and fabricate project at the same day, without the wait time. These processes are not only reducing time and money but also allowing many possibilities in material research and application processes. The trail-and-error possibilities open new opportunities of production – but also making space to 'Hack' the new 3D production. In my journey, I've started to produce shoes, as my initial step into the world of 3D printing technology.  3D printing is changing the way we approach new production methods, and for me, shoe manufacturing was the first introduction to customize design, starting from 3D scanning with my Brother, Yoav, and manufacturing using flexible filaments. Since I and my siblings bought our first 3D printer together (me – fashion designer, my sister- industrial designer and my brother – computer engineer) in 2014 – the progress is so fast, and so groundbreaking in the research and development of customization production.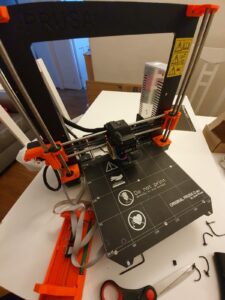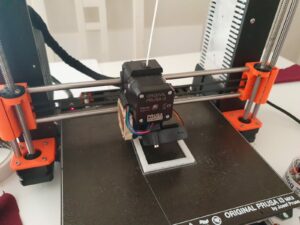 3D home KIT printer during the new processes I disassembly & printed the textiles during Covid-19 lockdown, April 2020
The DIY movement was changing rapidly after 3D printing has become a key player in the movement by giving people the ability to take an idea and create it into a finished product, either in fab-lab, home Kits, or shared-labs.  3D printing is one of the growing industries today because it can produce almost anything from toys, accessories and soon. True, almost everything is possible with 3D printing, and for designers, it's a new way of thinking about manufacturing and production scale. By the year 2008, the 'Reprap Darwin' 3D printer was born. This open-source project helped to launch 3D printing into the spotlight with simple slicing options, instead of complicated coding that required in the past. The new opportunities of 3D technology can change especially education processes, encouraging natural curiosity through hands-on making processes, increasing creativity through STEM learning.