The project
Alma is a wearable biosensor designed to monitor vaginal fluids. We strive to support and educate women* about their intimate health through technology. Our team of designers, anthropologists, scientists and engineers has co-developed with our industrial partners, Fraunhofer IZM and Empa, a new type of underwear capable of measuring vaginal fluid pH. Quantifying vaginal chemistry is an important step to close the medical gender gap and raise awareness about the female body. Our entire design process was driven by the data and insights from the Alma meets Flora survey and co-design workshops.
The artist
My aim as designer is to sparkle critical conversations on feminine hygiene and the surrounding taboos, to raise awareness and provide alternatives to intimate self-care. I envision women's body in the intersection of biotechnology and healthcare. Empowering citizens through open-source biology, to become active participants in their personal health. Coded Bodies as teaching practice, introduce basics of Arduino coding, soft wearables, e-textiles prototyping and the exploration of bio-textiles. Future Flora, STARTS Prize 2018, is a harvesting kit designed for women to prevent vaginal infections, and wear live bacteria in the panties. Rethinking the Bra is a new type of bra that truly embraces the female body, an on-going project with designers S.Schidlowski and E.Mikkola.
Follow Giulia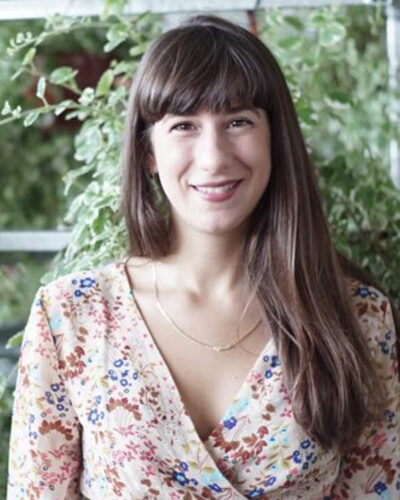 Robin Hoske, Fraunhofer IZM, about the project
"Team Alma set up an impressive participatory process by actively giving users a central role in development. These involved women from different parts of the world and combined insightful knowledge and evidence from thematic workshops with findings from applied research in the lab. Their research shows that emphatic knowledge and user participation are necessary to develop acceptable technological scenarios in a very intimate environment.
Together with the ALMA team, Fraunhofer IZM realized a textile-based pH-sensor integrated into underwear. It works with energy induction, thus avoiding a battery, and uses a novel micro-controller and textile antenna solution."
Credits: 
Giulia Tomasello