Bursts of soothing lavender, refreshing rosemary or sweet eucalyptus – Alexander Bello's  tailored collection contains invisible ingredients which completely alter garment experiences.
The Neobotanical research project interweaves nature, science, craftsmanship and wellbeing. Through micro-encapsulation and diffusion technologies, a corduroy jacket or a linen suit become scented mood-enhancers, naturally dyed and personalized with the ingredients and aromas of local fields.
Scents have the unique ability to energize, to generate reverie or calm. Bello's Re-FREAM co-creation project employs new technologies to harness their unique evocative qualities for the fashion domain. New eco-finishing methods allow for the heightened personalization of clothing: sensory tailoring. Bello first researched local plants, then extracted essential oils from them, which were micro encapsulated. He also developed natural dyes with Care Applications. Nebulization allowed for both the integration of natural dyes and scents into fibers. Little aromatic explosions liberating the fragrance are activated by friction, allowing the encapsulated fragrance to last for up to 20 machine washes. Though, as Bello explains, traditionally handmade men's tailored garments only have to be washed once or twice a year, the design of a compact 3D-printed diffusion stand in collaboration with Haratech also allows for re-scenting. The co-creation team also explored the release of scent through 3D-printed buttons with Profactor, as well as embellishments with laser printing with Aitex.
Bello also experimented with composition of scent layers, paralleling the use of top, middle and top notes in perfumery, for example lining a thyme scented jacket with a lavender-infused cotton.
Apart from the emotional impact on wearers, the co-creation research has long-range implications at different steps of the value chain. At the heart of Bello's approach lies local agriculture, situating specific scents and knowledge. Conversations with technicians not only revolved around machinery, but also the local use of plants, from medicinal mountain flora to the waste produced in olive tree farming.
The project's combination of industrial textile processing with artisanal manufacturing of the tailored garments affects also has multiple outcomes. The process affects not only the wearers of the garments: as each stitch releases scents, it alters the maker experience. The result is a radically new approach to manufacturing – as pleasure.
Finally, as the protective qualities of lavender against clothing moths allow for extending apparel life spans, the longevity of scent reaches beyond wellbeing. It becomes a key to sustainable long term use of clothing.
The co-creation team developed new natural dyes directly from plants, then applied dyes and scents to both textiles and finished garments through micro-nebulization. The resulting collection of wearable scentscapes, included both an unlined and a fully lined jacket, with the prints of eucalyptus leaves and lavender, a thyme-dyed and scented 2-piece suit with a rosemary dyed and scented pocket square. The spectrum of textile experimentation included lavender scented sheets, scented naturally dyed handmade espadrilles, and a linen laser printed linen tie.
Additional sensory design experiments included the design of scent-releasing buttons with Profactor. Thanks to the technical virtuosity of the Haratech team, the team also designed an adaptable and portable 3D-printed garment stand with an in-built diffuser for re-scenting.
While traditional ingredients for success in the fashion industry have included masterful tailoring or celebrity endorsements, the unique and evocative power of scent has remained largely untapped. This research projects also indicates the potential for scented apparel beyond the emotional impact of scent on wellbeing. It taps into local knowledge systems and opens new avenues of personalization, manufacturing experiences, but also new approaches to garment care. Re-scenting for commercial or personal use could become an alternative at the local dry-cleaner, extending clothing longevity. The wide spectrum of experimentation opened a range of aromatic new business models for the team.
The Project
Alexander Bello works on a capsule collection of multisensorial tailored-inspired garments where nature, science and the well-being of the wearer would be woven together.
The Partners
Bello worked within the Sustainable Finishing Hub of Re-FREAM. He collaborated with the Re-FREAM partners Care Applications and the Aitex facilities. He also worked with Profactor and Haratech in Linz to develop scented 3D-printed buttons and a portable clothing stand.
The Technologies
Bello first extracted a very concentrated dye directly from the plants and then worked with the Care Applications team to implement it into their technology. The team used Care Applications' ECOFinish nebulization technology to dye and scent cotton and linen textiles and garments. The natural dyes and micro-encapsulated scents included eucalyptus, black rice, thyme and olive tree leaves for their range of colors and aromatic properties.
The team tested five different mordants to determine the most efficient way to bind the dye to the fabric for the cellulose or protein fibers. AITEX's laser printers were used to engrave a design on eucalyptus dyed and scented cotton, which emits a subtle aroma with friction. Profactor collaborated on button designs which that can be screwed opened and closed so that a scented piece of fabric could be inserted into it. A lightweight and portable 3D-printed jacket stand to re-scent garments was developed with Haratech.
Belén Hinojosa, Care Applications, about the project.
From the side of Care Applications, we feel this was a really co-creative development between Alexander, AITEX and us. Thanks to his idea we investigated in more detail about certain plants and vegetables, not only their dye properties but also their aromatic effects on body health. This process helped to create a more innovative and collaborative workplace, which allowed ideas to become reality and increased our knowledge. Until now the knowledge we had was on regular natural dyestuffs that could be found in the market, but through the co-creation with Alexander, we have done more in-depth research on other plants.
The biggest obstacle in Alexander's project was the industrialisation of the process. Dyeing with natural dyestuffs in a traditional way uses a lot of water and energy, because a lot of energy is needed to heat all the liters of water that is consumed. The challenge was to move from traditional recipes to a new methodology using the ECOFinish nebulization system from the mordanting step to the final finishing.
A series of tests was carried out with different mordants for different types of fibers, both cellulosic (cotton and linen) and protein (wool) to evaluate their behavior. Following the trials, a lot of information was collected showing the interaction of mordants and fibers. After taking this information into account and evaluating the results, many plants and vegetables such as beets, avocados or oranges were tested with different mordants and on different fabrics to be able to choose an appropriate first colour palette. Once selected, pH tests were carried out in which, we could achieve different shades of the selected plants depending on the acid, basic, neutral value or with the iron addition. This has made it possible to obtain a harmony in the selection of colours. After sampling tests, and once the exact shade had been selected to make the final prototypes, the recipe was industrialised, and made into from the traditional process to dyeing with ECOFinish through nebulization. As a result optimum quality, both in the mordanting and dyeing phase, was achieved.
Dyeing processes were accomplished both on a ready-made garment and on fabric, which would later be made into suits. At the same time, a complete essence study was made from the plants that were used in the dyeing steps. Finally these essences were microencapsulated and applied as a final finish through nebulisation with the ECOFinish system, saving a large amount of product.
This co-creation experience with Alexander and his Neo Botanical Tailoring project has enriched our knowledge and has modernised and implemented the traditional natural dyeing process, while also adding a multi-sensory experience to unique garments.
The Artist
Bello's work seeks to explore the intersection of nature, science, craftsmanship and health through bespoke tailoring. Having worked under various tailors and pattern cutters in London, New York and Madrid, he continuously aims to preserve traditional hand crafted techniques while incorporating innovative processes to create garments with a story and a soul.
With a particular interest in natural dyeing practices, one of his main investigations consists in integrating nature into the garments he makes and finding sustainable solutions for today's fashion system. How can we re-think current production processes to create a link between the craftsman and the wearer, all while implementing innovative and sustainable visions for the future?
Follow Alex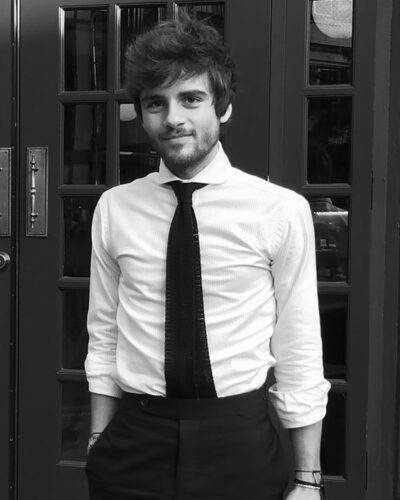 Blog Posts
Ars Electronica Festival in Linz, Austria It was a great experience being able to attend and show my collection of scented and naturally dyed garments at Ars Electronica this year.  Although my project wasn't as technologically-aesthetic as others I saw, …