Experience at Hub Valencia by Alexander Bello
Phase 2 – Experience:
In the co-defining and co-research part of the project with CareApplications and AITEX, one of the milestones we concentrated on reaching was to develop a scalable system for natural dyeing in the most efficient way possible with the highest performance, without compromising quality or sustainable practices.  We also aimed to establish the mordants we were going to use for each type of fabric and how we were going to go about developing a streamlined process with the eco-finish technology and machinery available.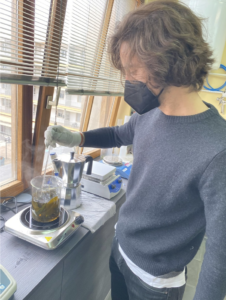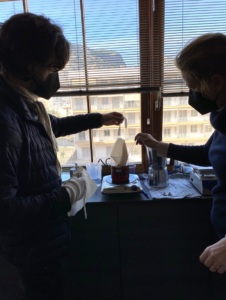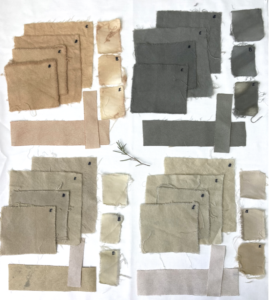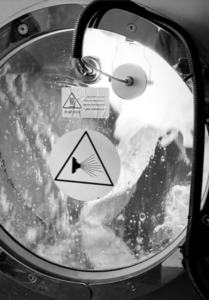 The first step to reach this goal was to determine which plants we wanted to use for the project, first starting with a large selection of Spanish plants that I've already worked with in the past or that I was curious about using for extracting their colour.  We then conducted mordant tests to see which mordant worked best for each plant and fibre, narrowing down the plants that gave us the highest performance and that we could build a narrative around for the project.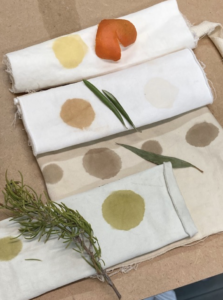 Walking around Alcoy I met an olive tree producer who made his own olive oil.  He was cutting down branches from his olive tree that he would later burn because if he didn't do this, worms would infest his trees and eat his olives.  Instead of burning the branches, I asked to use them to dye with, and he gladly let me take them.  This made me think of the concept of "waste" and that many things that we consider waste can actually have another use and prolonged life – we just have to think differently about it and explore its extended potential.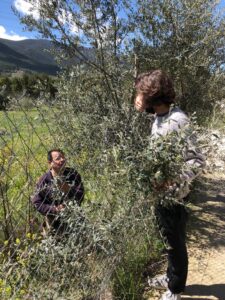 We then carried out pH variant tests to expand the colour range per plant for both protein and cellulose fibres, shown in the table below: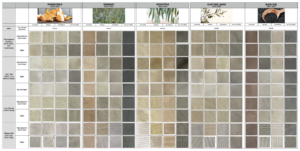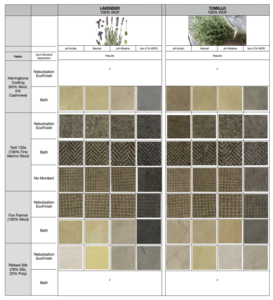 CHALLENGES
One of the challenges was reaching uniformity of the dye on larger lengths of fabrics as well as during the garment-dyeing process.  With the help of the team we were able to figure out a strong solution that allowed us to reach a strong colour as well as a clean finish.  A few pictures below show our tests with eucalyptus, using the full eco-finish process: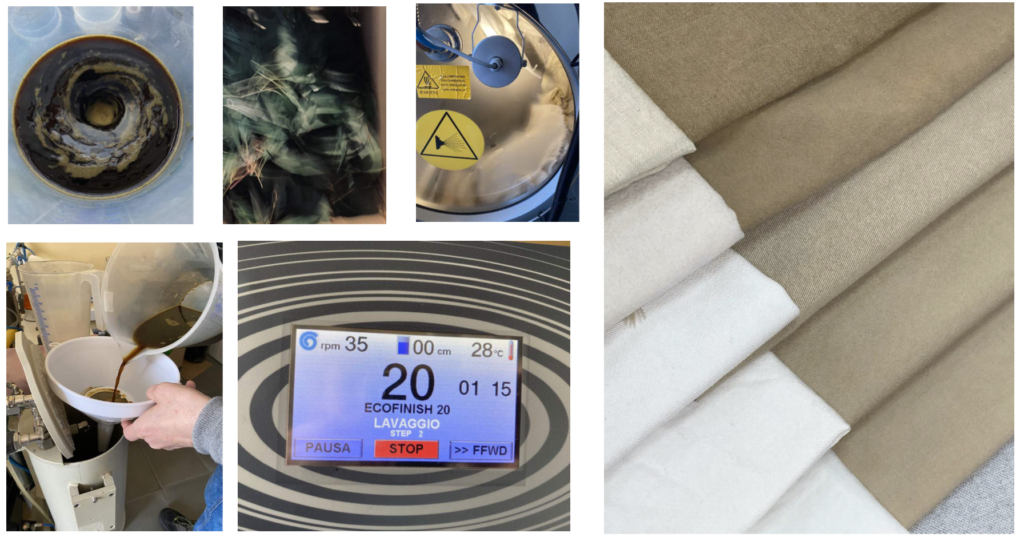 Another challenge which I am still working on is refining the definition on my laser prints, which I will be using to create pinstripe patterns and printing designs for the lining of my garments.  With such thin fabric for the lining, it was challenging to find the right amount of strength so that the fabric wouldn't burn or rip.  At first the formatting I found to be quite tricky but after a few tests, we were able to figure out the best parameters for my designs.  I am planning on working with pattern scanners in order to cut and print striped shirts, jackets and trousers, optimising the process and creating an interaction between old craft and new technologies.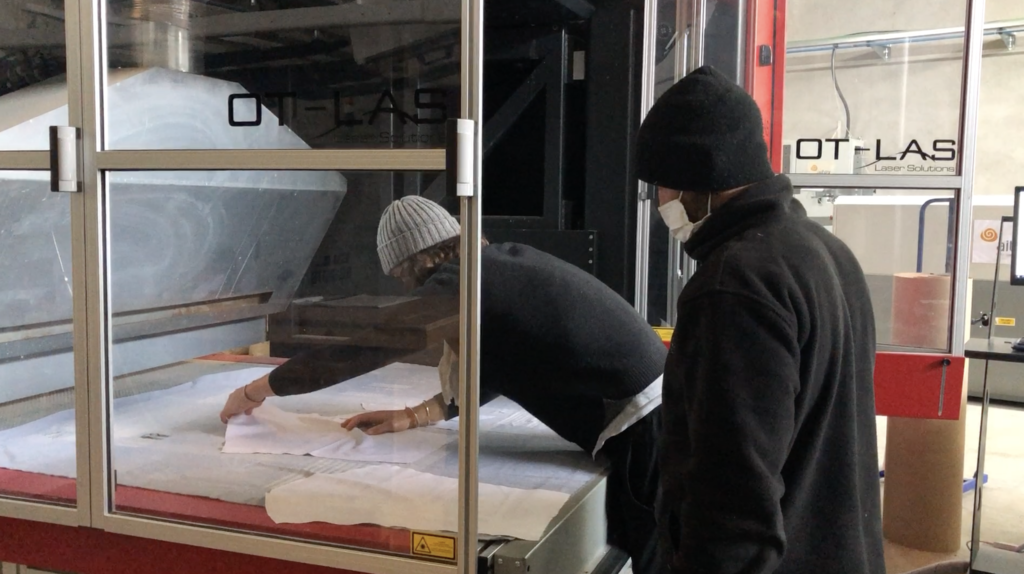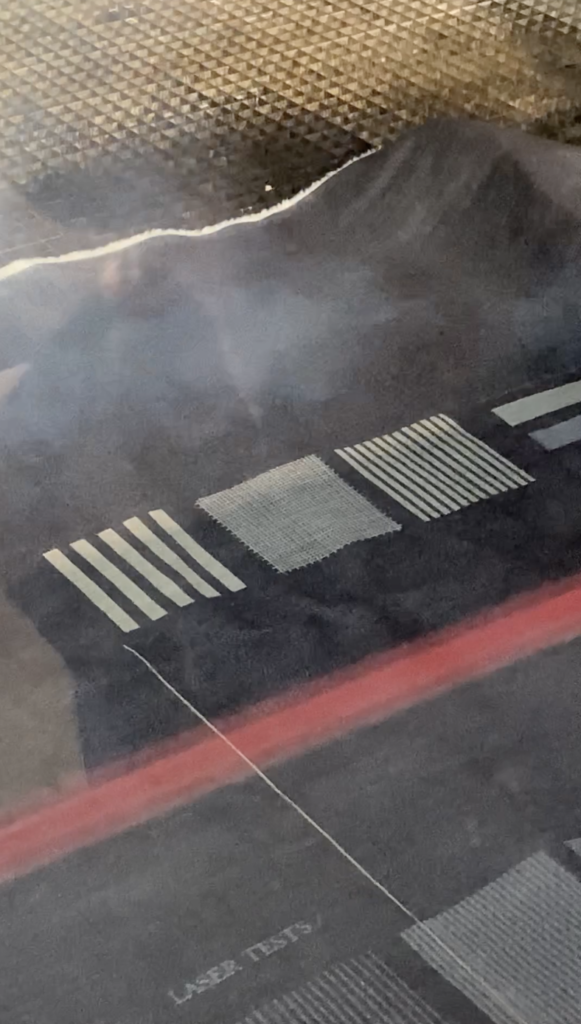 Obtaining a blue colour has continued to become a challenge for us, but we have found other alternatives like lilac that could be a good replacement.  The closest we've gotten to blue was with red cabbage, getting a dye bath that was electric blue, but it seemed to oxidise when we introduced the fabric and it turned to green.  More tests will have to be done.
In terms of the next steps that I plan to take, I will continue to work alongside Care Applications to industrialise and optimise the process of natural dyeing.  New developments to microencapsulate naturally dyed fabrics with natural essential oils will also be conducted as well as some 3D-printed projects with Hub Linz.