Design principles, Second Skins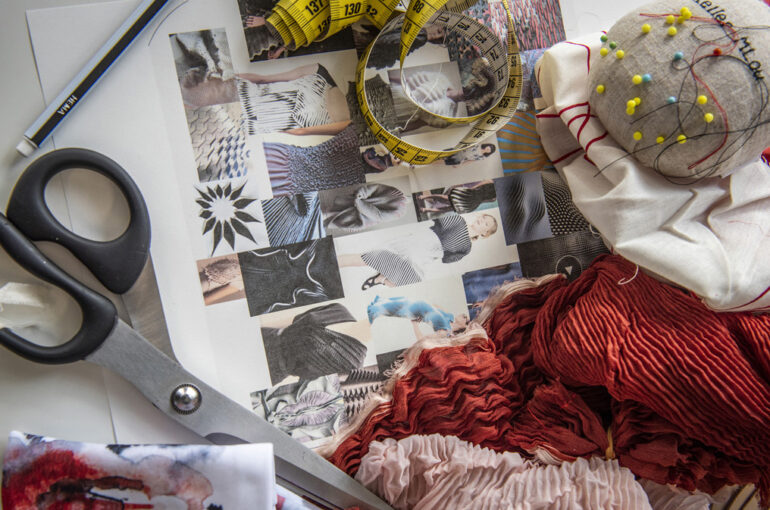 Before we take you with us on our research journey of the fusion between tech and fashion, finding usable materials and integration methods, I find it important to share our design vision with you. So, in this blogpost I will really focus on the backbone of the Second skins project.
Finding the objective
What determines the choices we make when we get dressed? Besides the basic essentials, like for example comfort and warmth, the main social choice is made based on the amount we want to stand out. This core question brought us to our current main objective. We want to develop a wearable that adapts to how much we want to stand out or become less noticeable.
Our relevance within the industry
Shifting the focus of appreciation and strengthening the relationship with our wardrobe is a challenge. Not only because it is concerning the redirecting of customer behavior and thought patterns, but also because it is not easy to make a difference in an industry that is mainly focused on rapid change to stimulate consumption and therefore financial growth.
To develop fruitful new perspectives for a healthy fashion industry, we need to change on all the different levels within the value chain. From material sourcing, production methods and locations to the business models themselves and, not least, our own dress behavior. Within the Second Skins project, we mainly focus on the direct relation between garment and wearer.
To determine what type of garments are most in need of our adaptive, relation stimulating approach, we investigated which categories are mainly fueled by single-use. This brought us to a focus on evening and party wear. Being ridiculed for appearing more than once in the same garment will be passé. But also, the uncomfortable anticipation of being over- or underdressed for an event becomes history with a responsive and adaptive garment.
Design principles
We talked about the awareness of how we value our wardrobe, but what are the main values within this project itself? To get a grip on this, I developed an overview of design principles to form the guiding framework. They can adapt and grow throughout the project, based on our findings, but the essence remains. This overview is divided into 4 categories: Design Essentials, Aesthetics, Material Use and Construction and Adaptiveness.
Design Essentials
We develop an adaptable long-term use garment. We want to strengthen the relation with the garment and stimulate longer use. When you compare circular design thinking with a forest, we are designing trees, not the short-term seasonal leaves.
The garment stimulates and rewards natural behavior. It will not be limiting or correcting movement in any way. We focus on developing a communication wearable, not a healthcare product.
The development and design of the product is user-centered. The garment is there to serve and strengthen the communication of the wearer. It will never reveal and communicate unwanted or unintended personal info. The clothing is there to facilitate the wearer in an optimal and comfortable interaction.
The design is in harmony with the shape and movement of the body.
The line between wearer, garment and tech should be as seamless as possible to approach the second skin idea of natural co-existing.
Aesthetics
Biomimicry is a base inspiration for shapes and structures. We avoid geometrical shapes and instead use organic forms that are also in harmony and fluent with the body.
The placement on the body is based on strengthening communication. It will never limit movement.
The integration of tech is subtle and user friendly. It doesn't need to be completely hidden, but when it shows, this visibility should have a purpose.
The use of layering (of different materials) is a returning aspect of my designs, with parts that are open, revealing and interacting with eachother. Our skin is also build out of layers with different properties, so developing "second skins", it only makes sense to take this aspect into account.
Material use and construction
The selected materials should be durable, robust and have a long life expectancy, after which it is recyclable. From a circular perspective: if we had chosen to develop leaves instead of trees, we would have used quickly biodegradable materials that would become the building blocks for new materials and products.
We use tech as a means to an end, as a material, not as the goal or for the sake of it. When we implement this, it has a clear purpose.
End-of-use element: When tech is integrated, it will be in such way that it can be extracted and recycled in separate material streams.
Recyclable element: We will avoid blended materials as much as possible
Recyclable element: We only use haberdasheries where and when really needed.
We embrace the tactile qualities of fabric and textile.
We will explore a modular design approach.
Adaptiveness
Postures and gestures (and physiology) are potential triggers for the garment. The interaction and position in relation to the environment is also something to be explored.
The goal is to create a communication enhancer within the human-to-human interaction. Adaptiveness in garments have great practical potential, but the following are not the main goal in this project: environmental changes like temperature, regulation of liquids (outside and inside the garment), solar influence, safety and healthcare.
The change of the garment is outward-oriented and communicates from the wearer through the garment to the environment.
The activated change can contain different effects. We will explore and test shape change with the garment (bigger movement), structure change (small movement), opening and revealing structures, color change, light and the potential use of electro-magnetic fields.
We will avoid the gadget and gimmick effect
The modular design approach
Untill now, garments are almost always viewed and offered as complete products. This makes sense in a fast fashion system, but in view of a healthy and happy future, I believe it is important to explore different strategies. With the idea of recyclability, long-term use and adaptiveness in mind, it is interesting to take a closer look at the construction of garments. Especially when we are considering adding technological elements to the product.
How will products look when the wearer is able to change and switch parts of the garment? Think for example of long and short sleeve attachments. This allows for a less season sensitive product that can have different properties and looks over time.
In regard to this, it is important to look in multiple directions; from the type of garment to the layering of materials with different properties.
This does not only influence the relation the wearer has with the garment, but can also mean a different interaction between retailer and customer. Hence a strong long-term relation fueled by adaptive personalization will be generated. Could this idea be the base for a new, future business model that works and improves the industry on several levels? Not only from social, customer relation, interaction and long-term perspectives, but also from a sustainable and critical viewpoint; how can we construct garments that can be easily disabled for recycling at the end of use?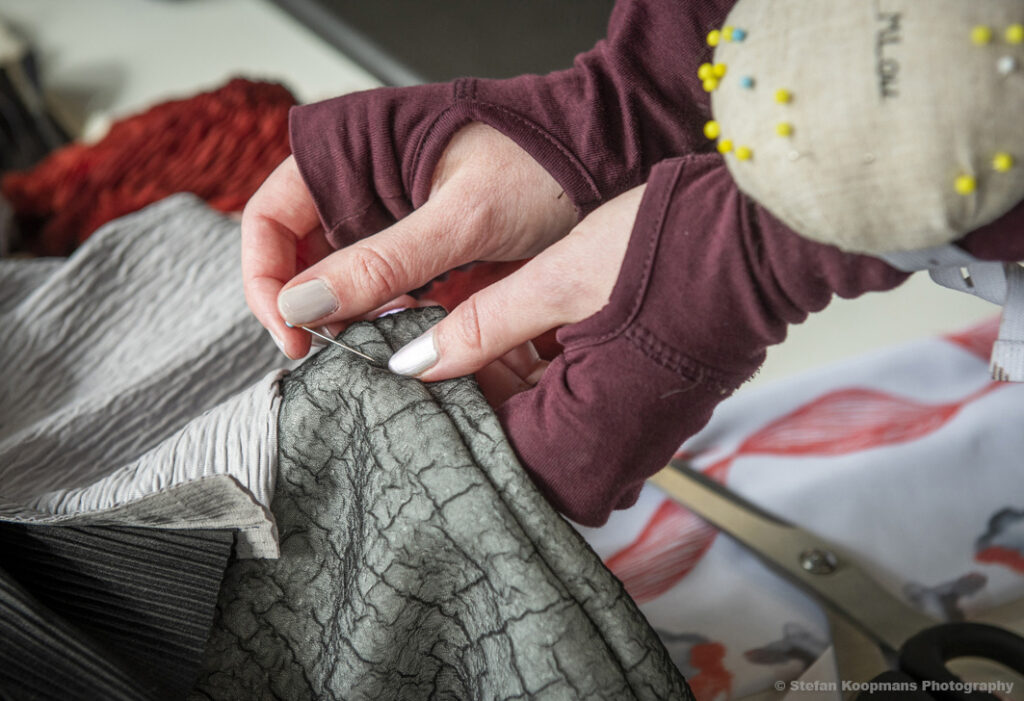 Photography: Stefan Koopmans