Deliverables Development
Naturally Dyed & Microencapsulated Fabric Results
With CareApplications' eco-finish nebulization technology, we went ahead and selected our final plants to proceed with and started dyeing a series of cotton and linen fabrics to later cut and sew with.  We started with eucalyptus, black rice, thyme and olive tree leaves for their range of colors and aromatic properties.  We then microencapsulated them with their essential oils.  The results came out very even and very similar to the initial dye tests we conducted several months back, which was a great achievement.  The process was a true collaboration, where I first extracted a very concentrated dye directly from the plants and then worked with the Care Applications team to implement it into their technology.  Color and energy performance were optimized, producing wonderfully smelling and looking fabrics!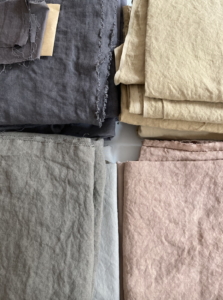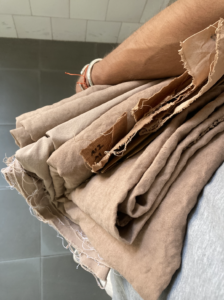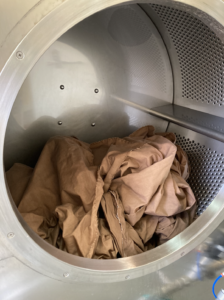 Garment Dyeing Tests
After dyeing a selection of fabrics, I went ahead and sewed a white jacket that we would use as a garment dye test.  The results were great, with a jacket naturally dyed with black rice and scented with lavender essential oil.  The garment felt great, broken in and had a nice worn-in effect to it.  It was a completely unlined jacket, so would lend itself to more casual occasions at a more accessible pricepoint.  We were very happy with the results as all seams were evenly dyed.  The only setback was the amount of shrinkage in sleeves and length.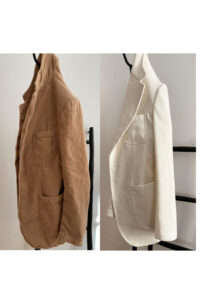 Naturally Dyed & Scented Bed Sheets
An idea came to mind when one of the technologists took out the fabrics from the machine – they looked like bed sheets and I thought how much I would love to have some bed sheets smelling like lavender and naturally dyed as well.  So we went ahead and made some!  I've tested the sheets and they're wonderful.  Some potential here…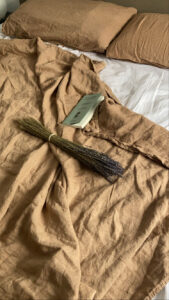 Handmade, naturally dyed and scented garments process
With the naturally dyed and scented fabrics, I went ahead and started putting together a few jackets and trousers with the traditional handmade tailoring methods I learned in London.  One was an unlined jacket and the other fully lined with the prints of eucalyptus leaves and lavender stems that I used to dye the jacket with.  A lengthy process, but nontheless a very satisfying one.  I thought it was a nice idea for the maker to also be able to breath in the nice aroma implemented into the fabric, and not only the final wearer.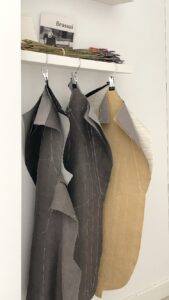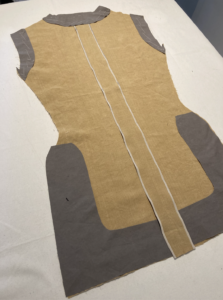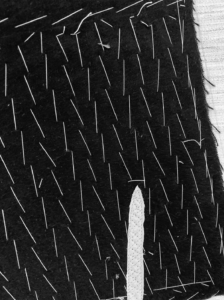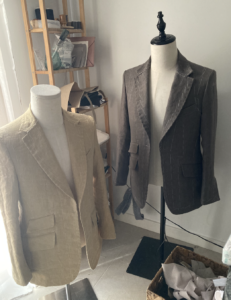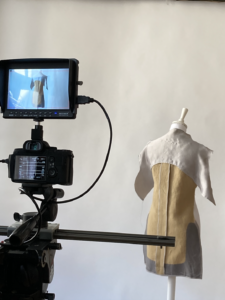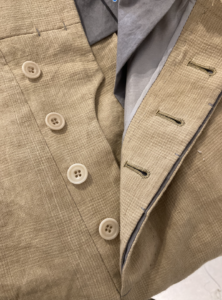 Naturally Dyed Espadrilles Handmade in Barcelona
I went ahead and dyed some ties and sent them to an artisan in Barcelona that specialises in espadrilles.  I dyed a series of them with olive tree leaves, thyme and eucalyptus.  The results came out great, despite some difficulties communicating.  They were primarily made for the photoshoot in August with the rest of my garments, but I can see these being a good first step for a custom-made or made-to-order program where the public can choose their plant/color and size.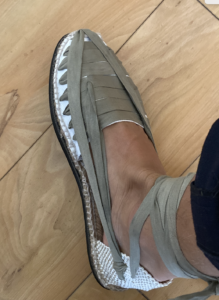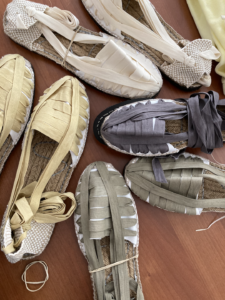 Laser Printing Tests on Naturally Dyed Tie Sample with Scented Lining
With some scraps of naturally dyed linen fabrics I was able to cut together a tie that I then used AITEX's laser printer to print/engrave a design on.  I sun printed a eucalyptus leaf and then vectorised it with a stripe print.  In the lining of the tie I used a eucalyptus dyed and scented cotton that emits a subtle aroma with friction.  I was looking at different ways that one could subtly implement aroma without it being too overpowering.  Something of a personal secret that only the wearer knows.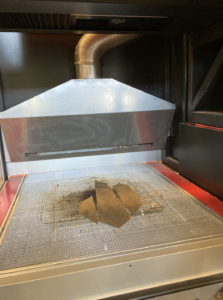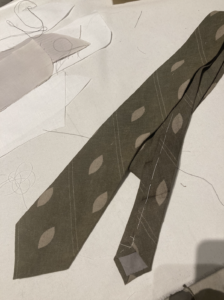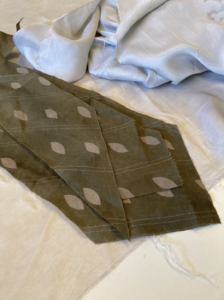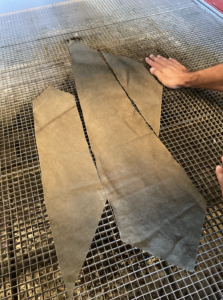 3-D Printed Jacket Stand with Haratech
One of the outcomes with Guillaume at Haratech was a stand that would re-scent garments.  Our first prototype is great, with a few tweaks to be done, but overall very happy with it.  The idea is to have an essential oil diffuser on the little table and the garment covering it.  The shoulders on the stand are also adjustable for different widths and angles (if someone has more square shoulders or more drooping shoulders).  Excited to keep developing this idea.