Circular Mono Material footwear, made of postconsumer waste for Reuse and Refix – ReFream by Assa Ashuach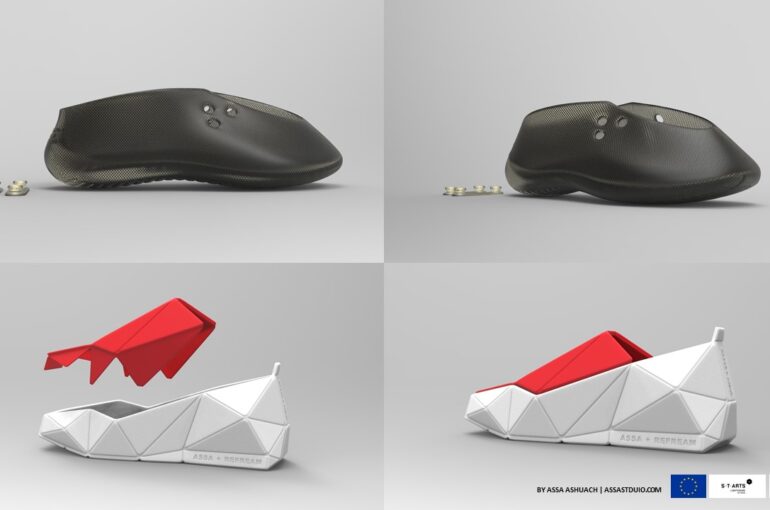 This post presents my collaboration with Haratech, that is focused on strategies to increase footwear lifetime and leads to reduced overall manufacturing and object carbon footprint to the minimum.
The MONO material is a R&D domain that was developed in parallel to the Evolve footwear project LINK, which introduces an evolutionary design approach and gradual user ergonomic improvement over time. The MONO material project is based upon two main factors: personal fit, using 3D scanning in combination with virtual shoe last making and materials made of postconsumer waste for simple FDM 3D printing. Together, we get a highly personalised object, that can be manufactured locally, and is made of postconsumer waste for future recycling. It means that the object's manufacture is fully circular, locally sourced, and decentralised.
The following are two design approaches to the MONO material concept. The 'Plet Origami' and the 'Monolit' shoes. Both are designed in such a way that they can be fixed using the same material patches, applied with local heat. Heat can be applied using a hot air gun, hair fan, or home iron. The Pelt Origami is made in two parts, one flat and the other 3D. The 3D part is support free, and very fast to produce, while the flat 2D parts can be folded into 3D and snap into position with a very simple home assembly. The Monolit design is made of one material and one part, the design is self-supported. The shoe 'roof' area was removed to allow for a faster production, with no support.
The Monolit shoe is made one a single post consumer waste. It is locally manufactured using simple low cost machines that can easily be placed at the consumers' home, or in small local businesses. It comes with fixing patches for visual mending, and can be repeatedly fixed, to extend the shoe life to its maximum. Furthermore, I believe that by making the shoe fit better, the object's value increases, leading to less consumption and less waste.
The 'Monolit' shoe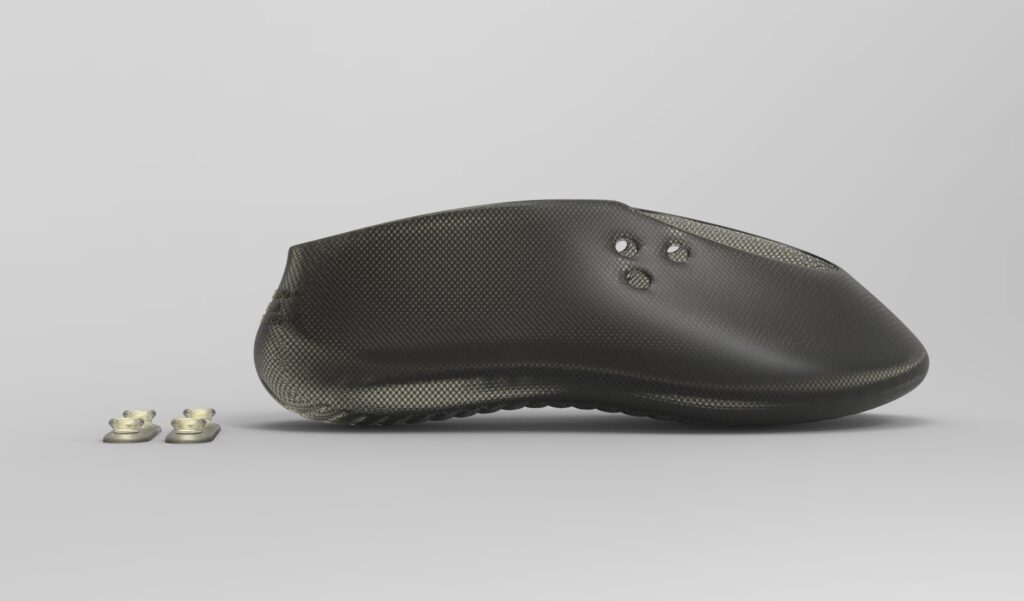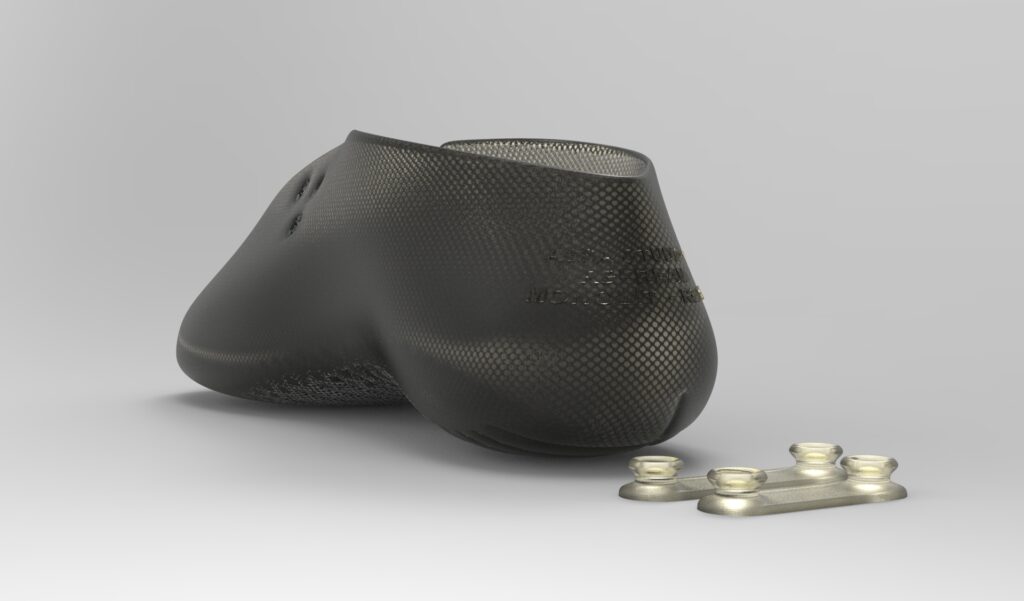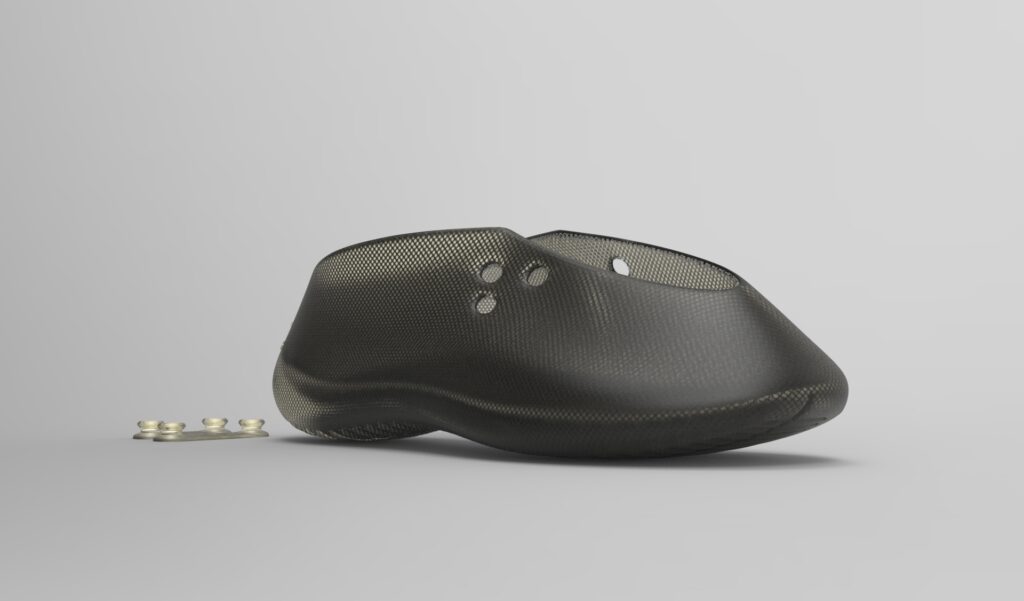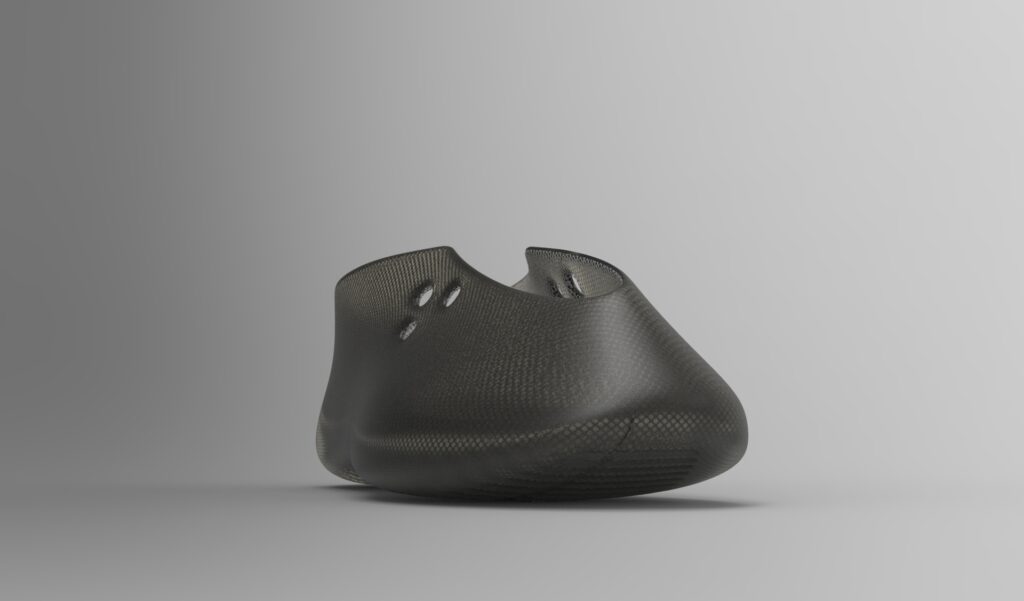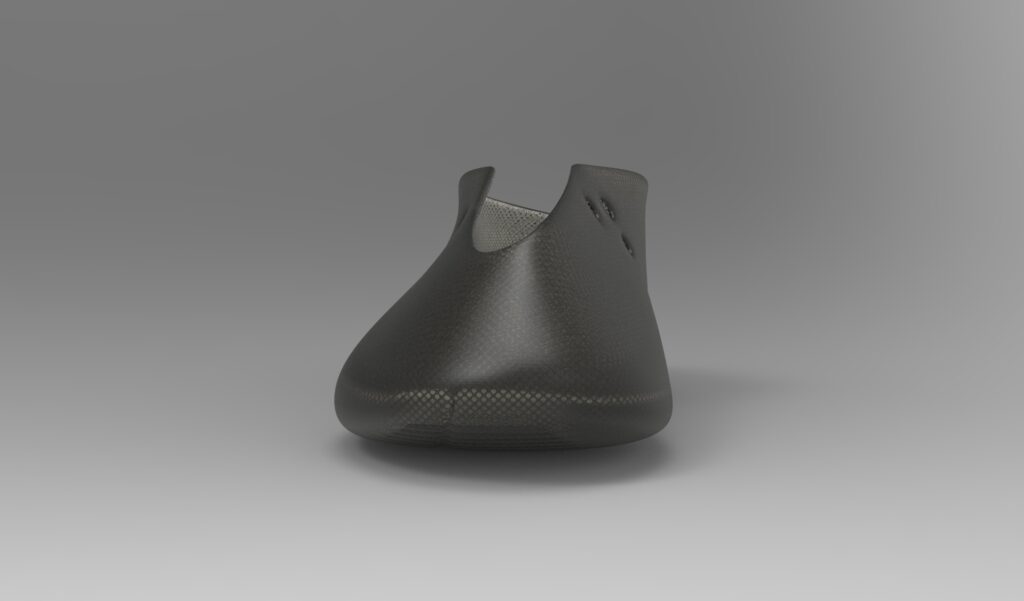 The 'Pelt Origami' shoe original pattern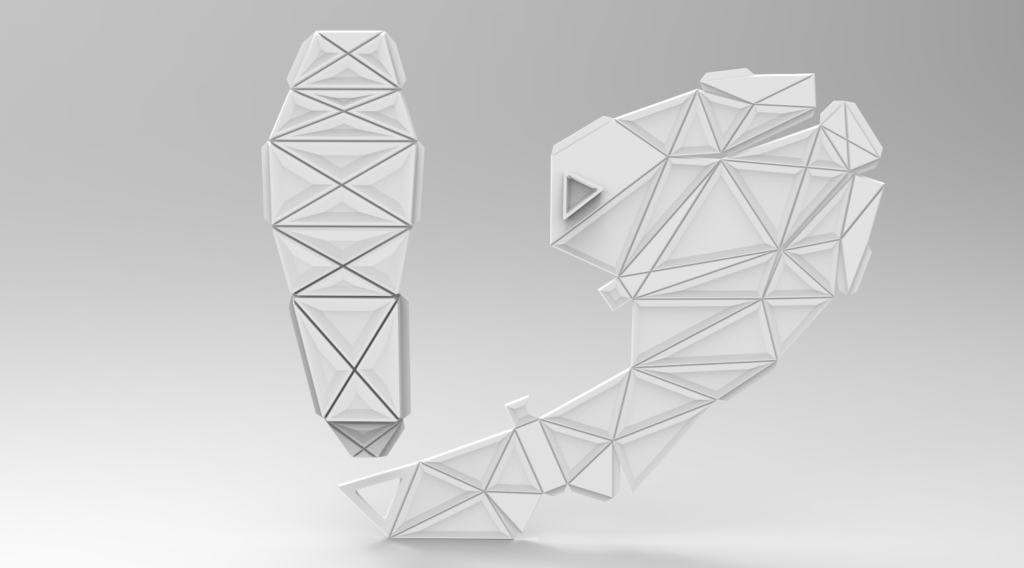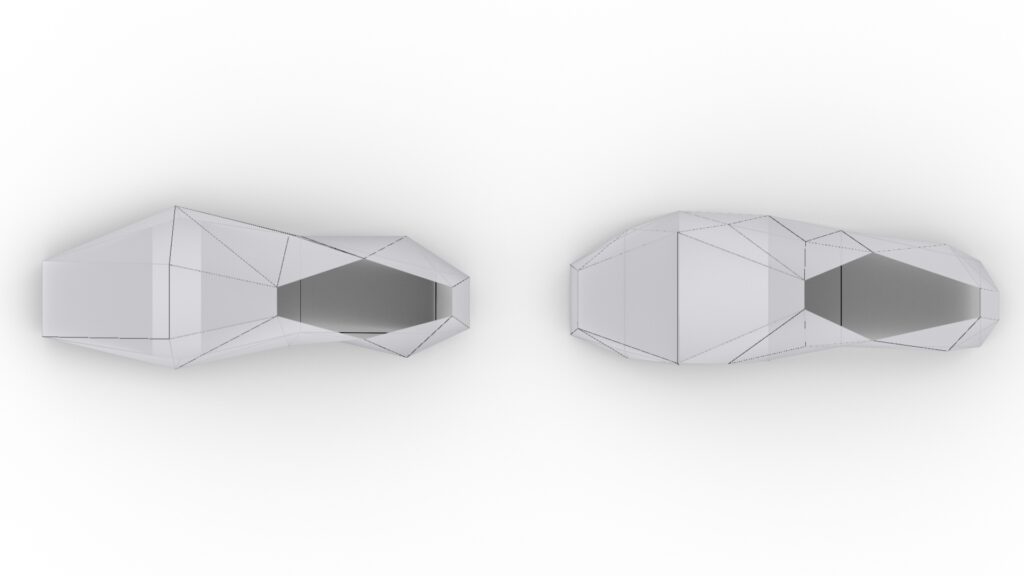 Pelt Origami 3D X 2D parts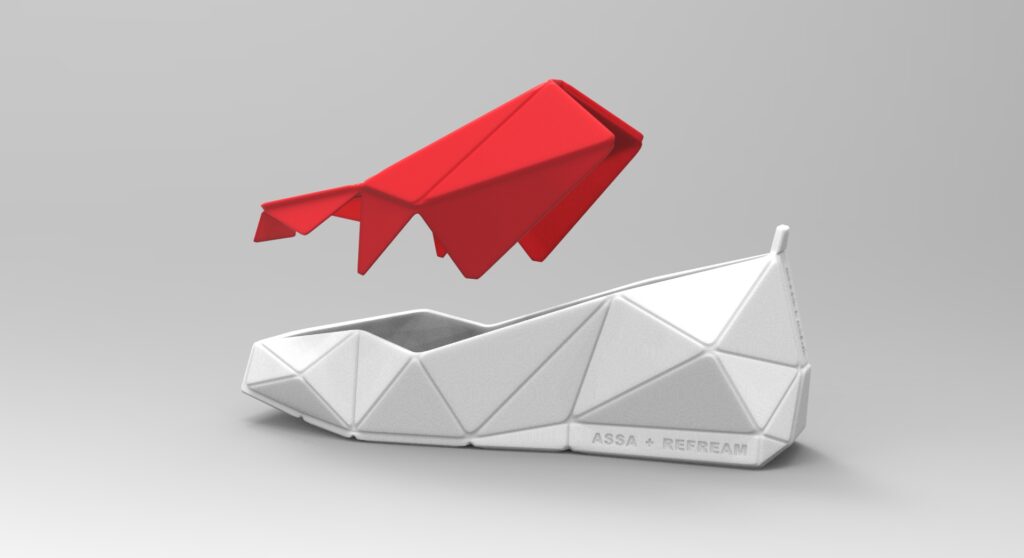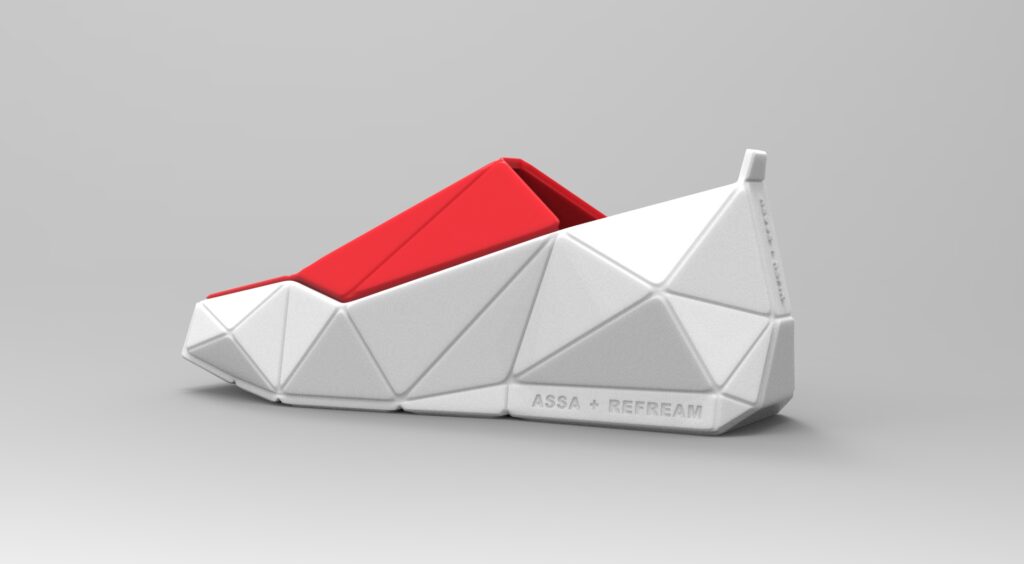 Material coat with Merk iridium (postprocessing)