Meet the Pioneers of Future Fashion in Berlin

User centered and inclusive design approaches in the fashion industry for creating a better tomorrow
The fashion industry is one of the world's largest polluters. Climate change and the associated desire for significant change brings new challenges for the industry. As a consequence, all those involved are rethinking sourcing, production and distribution processes.
One answer lies in the latest manufacturing technologies that are currently not only changing fashion itself, but also design and production methods. Within 36 months of co-creation, designers and artists, scientists and technology experts were co-researching on the implementation of these new technologies in the fields of fashion and material design, smart textiles and sustainable finishing.
On the 4th of November 2021, the results of these projects are being presented and brought up for discussion at AHOY Berlin, Wattstraße 11, 13355 Berlin.
We invite experts, media and interested industry representatives to experience these inspiring outlooks into the future!
TALK: INCLUSIVE DESIGN FOR SOCIAL INNOVATION (1:30 pm):
In an inspiring talk with design curator Anna BERNAGOZZI, artist and designer Hellen VAN REES future challenges in (fashion) design with a focus on social and sustainable goals are being discussed – followed by a Q&A-session with the experts.
OPEN GALLERY: PIONEERS OF FUTURE FASHION (3:00 pm):
The talk is followed by a presentation of the 20 projects within the framework of START-S Lighthouse pillar Re-FREAM. Experience the prototypes in presence of the co-creation teams, connect with inspiring and pioneering artists and designers and discuss the results of these unique collaborations.
Find out more about theRe-FREAM projects on www.re-fream.eu
REGISTER FOR FREE (including finger food and drinks):
https://www.eventbrite.com/e/pioneers-of-future-fashion-tickets-195789390337
Note: participation is limited to 30 places. First come – first served!
COVID19-INFO: We follow the German 3G-Regulation (vaccinated, recovered, negative test) at registration.
Anna Bernagozzi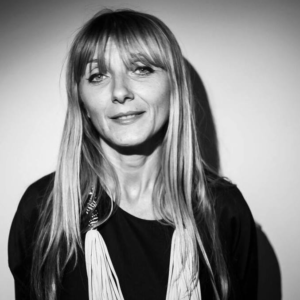 Anna Bernagozzi is professor of design theory and history and researcher t the EnsAD – École Nationale Supérieure des Arts Décoratifs, Paris since 2004 . Additionally, Anna is design consultant, editor for design magazines, organizer of international conferences, seminars and curator of exhibitions on the social role of design in prestigious venues like the Tripostal of Lille, La Villette, Paris, the French Institute of Milan, Italy, the French Institute of Lomé, Togo, the international Biennale of Design for Social Innovation Reciprocity, Musée de la vie Wallonne, Liège, Belgium , the National Taiwan Science Education Center, Taiwan.
She heads the EnsAD DESIS Group and since 1917 she has been directing the EU research project 4Cs (from Conflict to Conviviality through Creativity and Culture) with the aim of researching, experiencing and sharing the lesser known, more sober and generous practices and actions of design for social innovation. With its latest exhibition ExpoAction "Infinite Creativity for a finite World" Anna affirms the need for a "civic design" that allows the spectator "actor" to experience and measure the daily impact of his actions and, above all, to enjoy the benefits of their collective resonance. The design contexts are often situated into socially, politically and economically vulnerable, complex and conflicting situations, where co-design is the ideal tool to direct and enhance the infinite creative impulse of each individual through responsible, concrete and restorative actions that respect the fragility of the human being, the living being and the finiteness of the planet, building and composing a sustainable relationship with the other, with time and space, with the environment and the world.
Hellen van Rees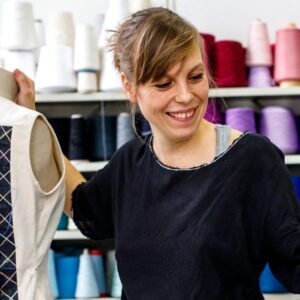 Hellen van Rees is a Dutch fashion/textile designer and researcher. She has studied Fashion at ArtEZ, Arnhem and at Central Saint Martins, London (MA 2012). She trained at Giles (2008) and Iris van Herpen (2010). Hellen won the Humanity in Fashion Award and has been shortlisted for the LVMH Prize. Her work is published in the books 'Fashion Made Fair,' 'Sustainable Thinking' and 'Unfolding Fashion Tech,' i.a.
Hellen founded her company in 2012, and through the years discovered her unique position between fashion, art and science. After starting out with seasonal collections and showing at London, Paris & Milan Fashion Weeks, she decided to find her own way by converting to a Slow Fashion approach. She started working more directly with customers and focusing more on research and development of new concepts and materials. Collaborations with partners like Vogue Italia and Hessnatur, but also the University of Twente and Saxion UAS made Hellen into a designer who's comfortable moving between different worlds; combining fashion, design and art with technical and scientific research. This also led to advisory roles at i.a. the Dutch Creative Industries Fund. Collaborative projects include a Wearable Breathing Trainer for children with asthma & breathing disorders, conceptual pieces showing future visions on sustainability and design for repurposing, integration of OPV modules (flexible solar cells) and textiles that respond to humidity.
Re-FREAM – new concepts for the future of fashion
As a pillar of the STARTS Programme (Science + Technology + Arts) of the European Commission, Re-FREAM invited artists and designers to team up with a community of scientists to rethink the manufacturing process of the fashion industry. www.starts.eu