Evolve IM' biometric evolutionary footwear – At Milan MICAM X tomorrow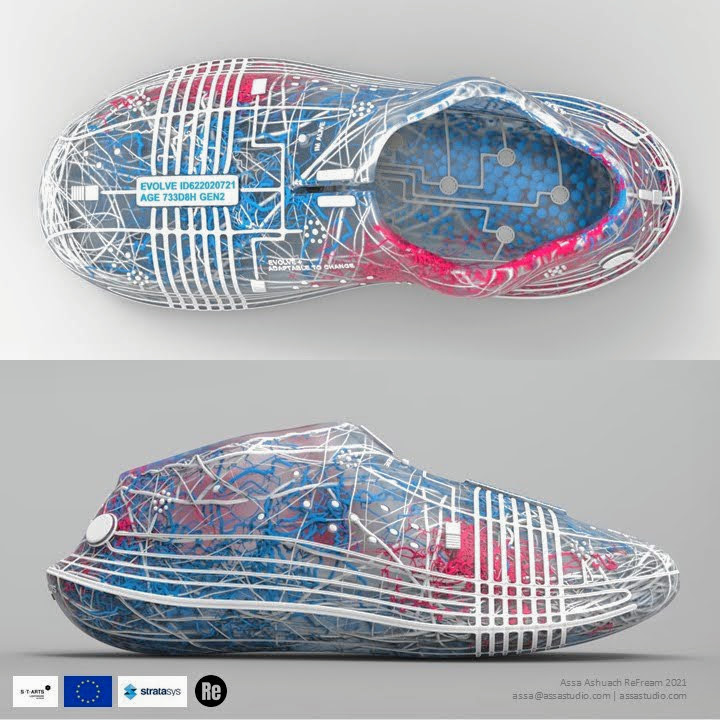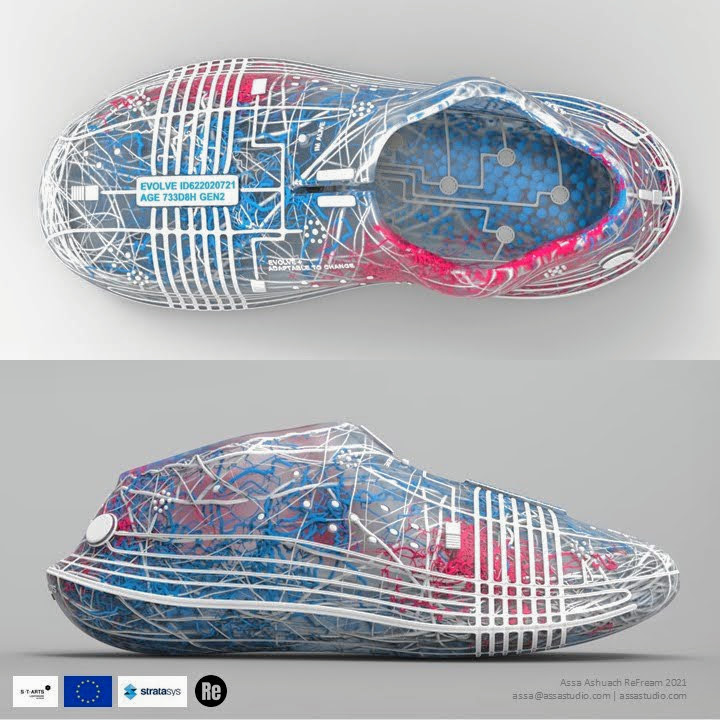 Excited to finally present my latest ReFream EU funded research, titled 'Footwear Time Based Design'. With many thanks to the the ReFream team and project, that was set to rethink fashion and its synergies to life and science.
Invited by our dear friend Federico Brugnoli, that will chair the debate tomorrow at Milan fashion week, MICAM X innovation conference, I will be presenting the project at the Art, Fashion, Heritage & Future session. If you are there, please come say hello ; ) LINK below…
A short movie about the project will be published in October and meanwhile, here is a small intro:
The Evolve IM' shoe, is a new biometric evolutionary footwear.
A shoe that studies its user and improves over time. We propose a new evolutionary design approach, whereby user sensors biometric data is collected over time, to achieve a gradual improvement of the shoe. Users simply live their lives, while the object virtually evolves and improves over time.
This project proposes to use the existing 3D scanning and biometric sensor readings technologies to hybrid manufacture footwear tailored to the user's way of life, ergonomics, biometrics and foot pressure distribution. We embed 3D printed biometric sensors in first generation shoes in order to collect individual users' data to improve their next generation shoes. It is about adding the element of TIME to the design process.
In this project we have partnered with Stratasys, multi material, colour and density AM to fabricate a first of its kind intelligent bio like object, made 1000's of gradual density variations of gel and tissue material matrix.
More soon…
Assa
.
Link to MICAM X in Milan tomorrow: https://micamx.themicam.com/agenda-it/
.
#rethinkfashion #refream #assaashuach #assastudio #footwear  #footwearfashion #3dprintedfootwear #biometrics #codesign #biodesign #3Dprinting #autonomousdesign #biomaterials #industrialdesign #productdesign #designthinking #AI #bioart #machinelearning #fabrication #fabrics #architecture #design #designlife #moderndesign #structure #pattern #sculpture #generative #generativedesign