Digital Vogue – Every End Is A New Beginning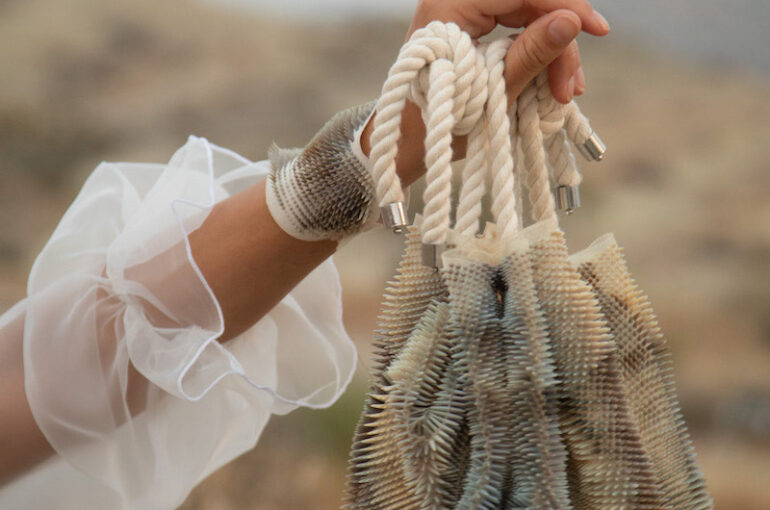 My Re-Fream project "Digital Vogue – Between Organic and Synthetic Processes" is coming to an end. The research focused on digital processes from 2D to 3D for nature-inspired geometries; and the connectivity and adaptability of textiles with multi-color 3D-printed parts; with an underlying focus of material efficiency and sustainability.
The design process is driven and inspired by imagery of natural artifacts with a juxtaposition of oceanic and arid environments. The digital designs are 3D printed in an innovative way, without any support material and directly on sustainable fabrics and in multicolor, creating an enigmatic visual effect when the garment is in motion while maintaining the comfort and wearability of fabric garments. We used the 3DF Polyjet printer by Stratasys.
The final outcome, the ARID collection amalgamates the research into a collection of 38 3D-printed parts that can be combined together to form a full-dress, or cascade into a number of different looks and combinations. The collection allows personalized size adaptability through modified connectors which are derived from 3D-scans of the wearer. The collection's design takes inspiration from the crystalline formations of the Dead Sea in its earth-tone arid textures, yet shimmers as the 3D-prints flow with fabric movement. This collection and final outcome exemplifies the possibilities of digital design process and 3D-printing.
Although it has been a long and windy road which included navigating through a global pandemic, I am glad to say that our Re-Fream project was very successful. My research partners Stratasys, Haratech, Profactor, the Consultancy University of Art and Design Linz – Department of Fashion & Technology, and I worked closely together, we made significant progress and delivered results that will impact our work for years to come.
If you hadn't had a chance I would recommend reading my previous blogs to learn more about each phase/step of the process and see additional pictures of our results.
1: Digital Vogue – from 2D to 3D
2: Digital Vogue – 3D Printing on Textiles: customized, sustainable, and ready-to-wear
3: Digital Vogue – Destinations within Re-Fream
4: Digital Vogue – Research Experience
5: Digital Vogue – Exhibition "NEAR + FUTURES + QUASI + WORLDS"
During the final phase of our Re-Fream project, we worked on finalizing a prototype garment to showcase our research. The collection is designed in a cascading manner, it can be worn as a full dress or it's elements can be disassembled and worn with regular traditional clothes.
The garment consists of a jacket with different lengths, a skirt, a corset, and a series of accessories. The structure of the seams is based on the muscle layout and anatomy of the female body.
There is no sewing involved in the final assembly of the parts, instead, all seams are connected with 3D printed joinery. For the first time, 3D printed connectors are being used in the assembly of a 3D printed garment. The design displays months of research into textiles, joinery, and digital design processes.
The ultimate goal within Re-Fream was that the design workflows are fully digitized; from design to production leading to 'local production' and 'mass customization.'
THE FINAL PRESENTATION AT ARS ELECTRONICA FESTIVAL 10th September 2020
Every Re-Fream project is giving its final presentation, and I was asked six questions that I will share with you today for our last blog post.
1: Why did you come up with this idea, and what drove you to research it?
One of the challenges with consumer 3D-printed clothing is the practicality and comfort for the wearer. 3D printing on textiles holds the future in fashion due to its advanced wearability, as the 3D print is separated through a textile base layer and does not directly touch the skin. During my initial research in 2018, I tested the printing of 3D geometry on my own desktop printer, and it revealed the vast opportunities of 3D printing on fabric. I wanted to develop the design techniques and digital workflows further, and that was the main ambition I applied with for Re-Fream. During the co-research phase with the technology partners Stratasys and Profactor, a large variety of textile swatches of different weaves and dyes was tested, with benchmarked adhesion tests to create a summary catalog.
2: How does Re-Fream´s collaborative approach differ from your normal way of working?
The majority of my work is based on collaborative efforts as well as the synergy between art and technology as I am a designer working with emergent technologies since more than fifteen years, I am experienced thinking in this mindset already for me it is not a shift for me it would be a challenge to actually not work in this way. Re-Fream allowed us to put the research ambitions ahead of the final outcome – I did not know what the final outcome would look like until the last few months. It also allowed me to work with four technology partners simultaneously on different goals.
3: What has your co-research project showed you vis-a-vis improving fashion manufacturing systems?
Re-Fream enabled me to expand the research into multiple different directions. There was a scientific part, another which was more empirically driven and one which was more artistically driven. The ultimate learning experience was how to juggle all of these and have them result in one single prototype. The outcome and co-research findings are so significant that I would have loved to continue the research and develop several collections with all the various insights we gained.
4: Aside from tangible outcomes, has RE-Fream allowed you to reflect on a more aesthetic thought process, or emotional issues?
In 3D printed fashion, seams as we know them from traditional pattern making are eventually eliminated. The structure of the seams is laid out on build platform size and machine bounding area. In the Re-Fream project, I went one step ahead and used the potential of organic joinery to base the structural layout on the muscles of the anatomy of a female body. This has enabled me to overcome the constraints of the machine size and made me reflect on some aesthetic decisions in the design.
5: What further opportunities for development does your project offer. What continuity do you envision?
We started this project under the name Digital Vogue – Between Organic and Synthetic Processes; we have evolved this into the new JK3D series. During the design process, I realized the potential of the cascading idea and the many variations which can be realized. Besides single garments, there is a variety of accessories and further applications that can be achieved with these design techniques, which adds to the change in urban manufacturing in the long term. There are tremendous opportunities that I see in 3D printed joinery and geometry development. The continuity I envision is to bring these findings to the market and allow the consumer to experience these unique outcomes.
6: How can the fashion industry evolve by working with emerging technologies for urban manufacturing?
During the design process, several different workflows were developed to design the dress based on a series of 3D scans. The workflow now enables us to print this dress automatically in different sizes and through digital workflows. With this technique, we come closer to local and on-demand production, personalization and mass customization. In regards to the sustainability ambition which is the basis for many of the Re-Fream projects, we sourced 100% natural hemp fiber as the base layer for the textile which utilizes significantly less water than cotton, and during the printing process, we chose geometries which can be printed without any support material – meaning only the material that is needed is used.
THANK YOU!
I wanted to thank everyone involved in this project and the readers of my blog that followed our journey.