Digital Vogue – Research Experience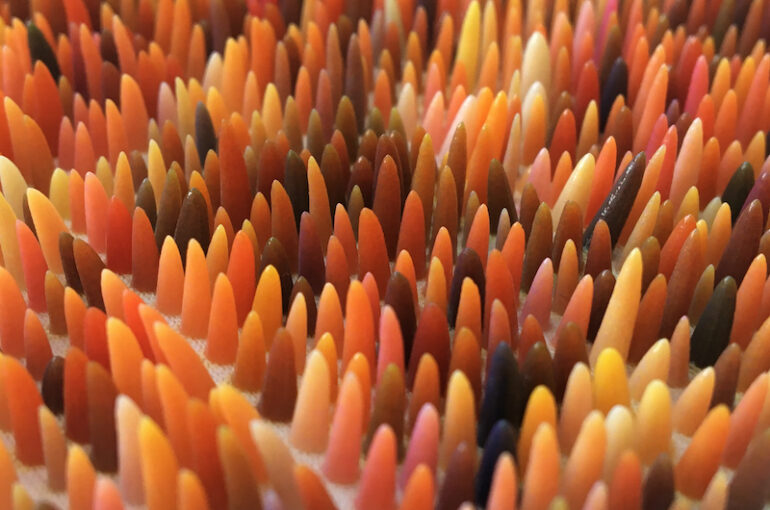 Today I want to share some insights into our research experiences within the Re-Fream project. In 2019 we successfully printed directly on denim (Setae Jacket), within Re-Fream we have tested 3D printing on a variety of different fabrics and explored new joinery techniques.
3D Printing on different fabrics
As already mentioned in the previous blogs one of the challenges with consumer 3D-printed clothing is the practicality and comfort for the wearer. 3D printing on textiles holds the future in fashion due to its advanced wearability, as the 3D print is separated through a textile base layer and does not directly touch the skin.
In the co-research with the Tech Partners Stratasys, Profactor and Haratech, we tested around fifteen different denim types and twenty other textile swatches of different weaves and dyes. For example, we experimented with 100% Cotton, 100 % Polyester, combinations of Cotton & Polyester, Viscose from Bamboo and also with very thick fabrics like laminate 3D spacer fabric.
The outcome was surprising because printing on most textiles worked well. Even the thick spacer fabric and thin mesh fabric. Prior to Re-Fream, we have experimented with Stratasys with a variety of textiles such as different denim types and printing on silk, however not always these results were satisfying. Now within Re-Fream we decided to document each step meticulously and started comparing the results to get a better understanding and overview of the different fabrics. We also started to implement rigorous and benchmarked adhesion tests with Profactor and Stratasys to create a summary catalog. The next step within our Re-Fream project is the decision of which textile we will use for our prototype.
3D Geometry Design
Within the research, we also explored a variety of geometries and color techniques. The geometries were developed further from the original stick geometries. We designed cone, half-sphere and organic Voronoi patterns and explored a variety of parametric design processes to generate those geometries digitally. Printing the geometries on 10x10cm swatches using continuously the same fabric enabled us to develop a catalogue of more than twenty five 3D printed geometry swatches. We explored color gradients, image mapping and experimented with a variety of digital software. The most important goal for us was to print entirely supportless. Printing without support material means only that amount of material is being used that is actually needed. That was a big challenge because printing supportless reduces the freedom of geometrical exploration.
The results of the research will be realised in different garment applications. We found that the higher patterns are more suitable for the couture application, while the lower patterns are more applicable for high fashion trends. Designing different spacings in the pattern design enabled us to control the rigidness and flexibility of the 3D fabric.
Mass Customization
We worked on integrated computational design methods that automate the process from 3D body scan to final 2D file and 3D print. The ultimate goal within Re-Fream is that the design workflows can be fully automated; from design to production leading to 'local production' and 'mass customization'.
We tested different 3D simulation software (CLO, Houdini, Mixamo, Grasshopper) as we worked on translating and simulating the 3-dimensional mass from the body scan into using it for our designs of the garment. The scanning process is very quick, our Tech Partner Haratech has a machine that scans a human body in just 30 seconds.
New findings:
Our original idea was to develop a customised garment that fits each person exactly. However in reality our body size and shape changes over time. Thus we are now focussing on creating a garment that is adaptable to different sizes and shapes.
Currently, I am focused on the design development of the final prototype for the Re-Fream Project.
Stay tuned for more updates.
To read my previous blog posts follow the links:
Blog Post #1 Digital Vogue – from 2D to 3D
Blog Post #2 Digital Vogue – 3D Printing on Textiles: customized, sustainable, and ready-to-wear
Blog Post #3 Digital Vogue – Destinations within Re-Fream