Digital Vogue – Destinations within Re-Fream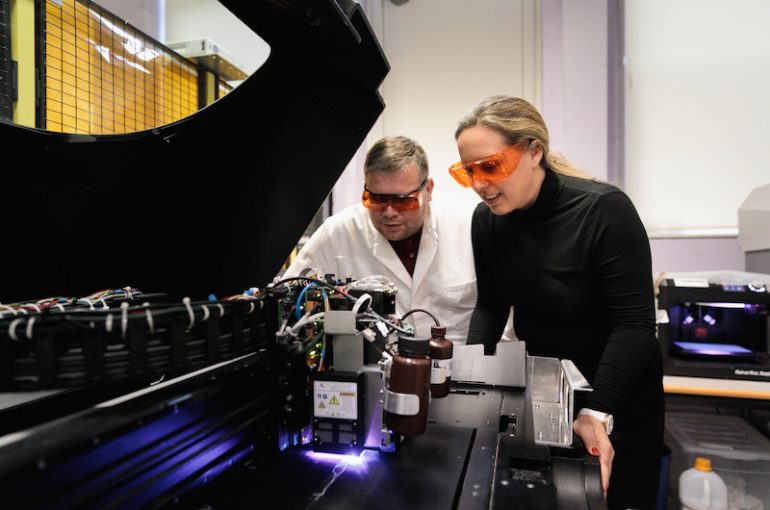 Meeting with Tech Partner Stratasys in Rehovot, Israel; Haratech and Profactor in Linz and Steyr, Austria; and Midterm Presentation in Madrid, Spain
Within the past five months, I have traveled to several destinations as part of the co-research of Re-Fream, as the Co-Creation takes place at various locations within Europe and Israel.

Between managing my company JK Design GmbH in Salzburg and working in the Hub Linz, Austria, and teaching architecture at the University of California in Los Angeles, I traveled around the globe for meetings, presentations, awards. In a time in which the Virus Covid-19 imposes severe travel restrictions, I would like to reflect on the exciting destinations we have visited.

In my last blog post, I gave you an insight into how the co-creation takes place in the Hub Linz. Together with my research assistant Johannes Schlusche, we spent a lot of time with Profactor in Steyr and Haratech in Linz between November and January.
At the end of December I traveled together with my partner Kais Al-Rawi to Israel as part of the Re-Fream Project. Kais is also an architect and works at Walter P Moore Engineering in Los Angeles. He is supporting us within Re-Fream with managing the operations, budgeting, and important research strategy and development decisions.
We traveled together to Israel and visited our technology partner Stratasys for the first time to develop our research together. It was an intense time filled with long meetings, extensive presentations. But most importantly, we made a lot of progress developing the research in the right direction.
My week-long trip to Israel was packed with meetings, workshops, lab experiments, trial & error working sessions on the 3D printers. Besides, we went to see the cities Tel Aviv & Jerusalem which were amazing to visit.
Continuation in the Co-Research
In January, we continued the research and implemented the outcomes from the co-research at Stratasys into the working sessions with Haratech and Profactor. We did some further polyjet 3D printing tests as well as further laser cutting tests.
Mid-Term Presentation in Madrid
At the end of January, Johannes and I traveled to Madrid to meet all the other Technology partners & Designers, who are part of the Re-fream project 2020, at the Institute of Education of Design (IED) in Madrid. The two-day event was packed with meetings, networking sessions, panel discussions, and each participant presented their project and the outcome of the last couple of months.
Panel Discussion with other Designers (from left to right) Ganit Goldstein, Viktor Weichselbaumer (Yokai), Michael Wieser (Yokai), Julia Koerner (JK Design) and Moderator Nacho Marco Asuncion
Photography: Re-Fream (left) and Johannes Schlusche (Right)
It was an excellent opportunity to introduce my work and all my co-creation partners (Stratasys, Haratech, Profactor, University of Art Linz – Department for Fashion & Technology) and get deeper insights into the other co-creation projects and their latest developments.
Mid-Term Presentation: Research Insights
We achieved printing on different fabrics and materials and working with new joinery techniques. And we accomplished a new 3D workflow for adaptation of wearable designs to 3D scans. We will write more about this in our next Blog Post.
To read my previous blog posts follow the links:
Blog Post #1 Digital Vogue – from 2D to 3D
Blog Post #2 Digital Vogue – 3D Printing on Textiles: customized, sustainable, and ready-to-wear