3D Printing & Crafts – Hybrid traditional and futuristic techniques by Ganit Goldstein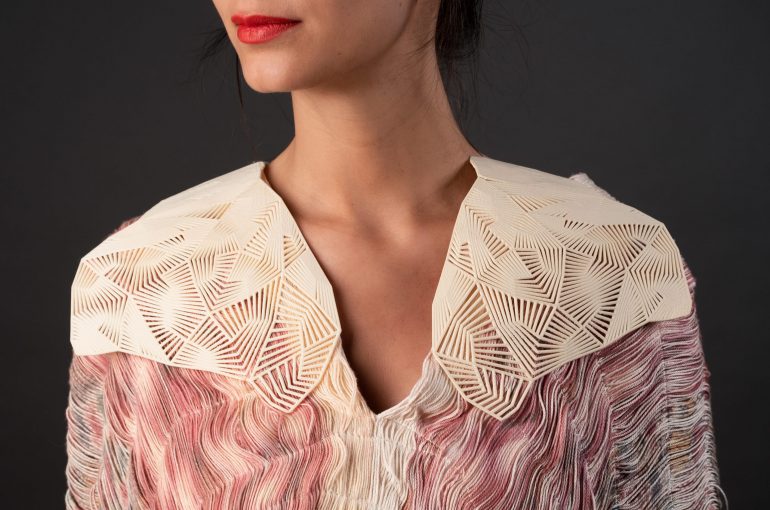 From Japanese heritage to Additive Manufacturing processes
We can learn a great deal about the history of the world by learning about manufacturing processes and how it changed over the years. In past times, crafts had a leading role in the industry of any society. However, the industrial revolution has brought about mass production and large-scale manufacturing and, thus, rendered crafts to be secondary, in terms of production methods and scales. My vision is to bridge together traditional craft techniques with cutting edge tools of 3D scanning, CAD and 3D printing, building tailored made garments, combining parametric design software and handmade textile processes.
I believe that the combination of tradition and future technologies will lead us to the essence of innovation for building new ground for the future of Fashion. It is about the balance between old and new methods, using the right tool, the right material – to discover new possibilities for sustainable fashion systems.
My Journey
My journey began a few years ago when I was awarded for taking part in a student exchange program at the Tokyo University of the Arts. In the craft department, I specialized in Japanese weaving. I chose the department of 'Textile Art,' which involves the study of the traditional making process of Japanese handmade Textiles – woven & dyeing techniques. This unique period in my life taught me how craft is essential to our society and how important the deep understanding of techniques & knowledge for future applications.
The process I was fascinated by is the study of a unique technique of IKAT weaving, which refers to the study of dyeing yarns and producing the woven fabric on a traditional loom for the outcome of unique colorful patterns.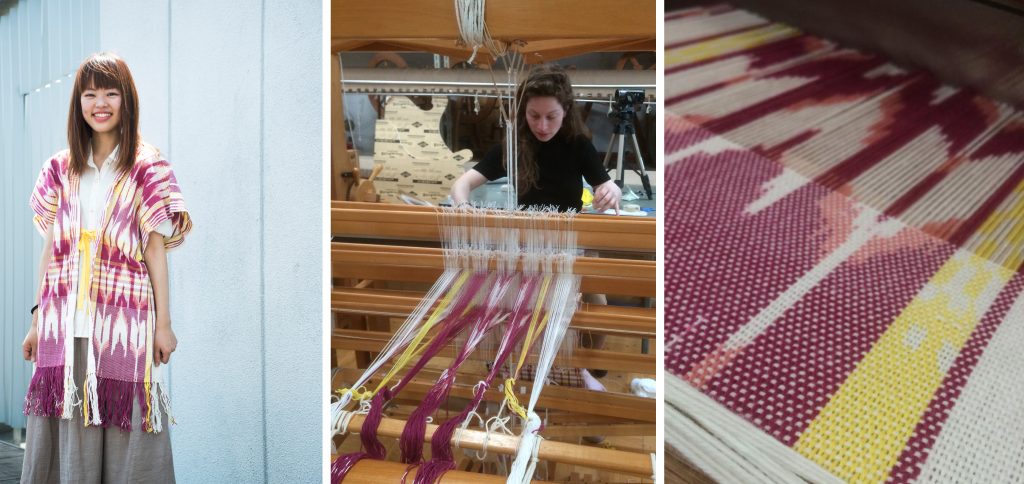 The working processes from Japan was essential to my development as a 3D fashion Designer. The fundamental principles of textile production connected imminently to my background in the 3D design software. Since my experience in Japan, my projects consist of the balance between hand-made and machine-made processes – always searching for this balance and harmony. These days, my working process consists of backward and forward methods – from Analog to Digital working processes. I start with handcraft try-outs and then I follow with textile developments – prototyping my ideas to reality. After that I am translating the unique processes to the 3D design software. My working methods can also go the opposite way, starting with computer software, and then working on the handmade techniques, translating the combination into a new practice.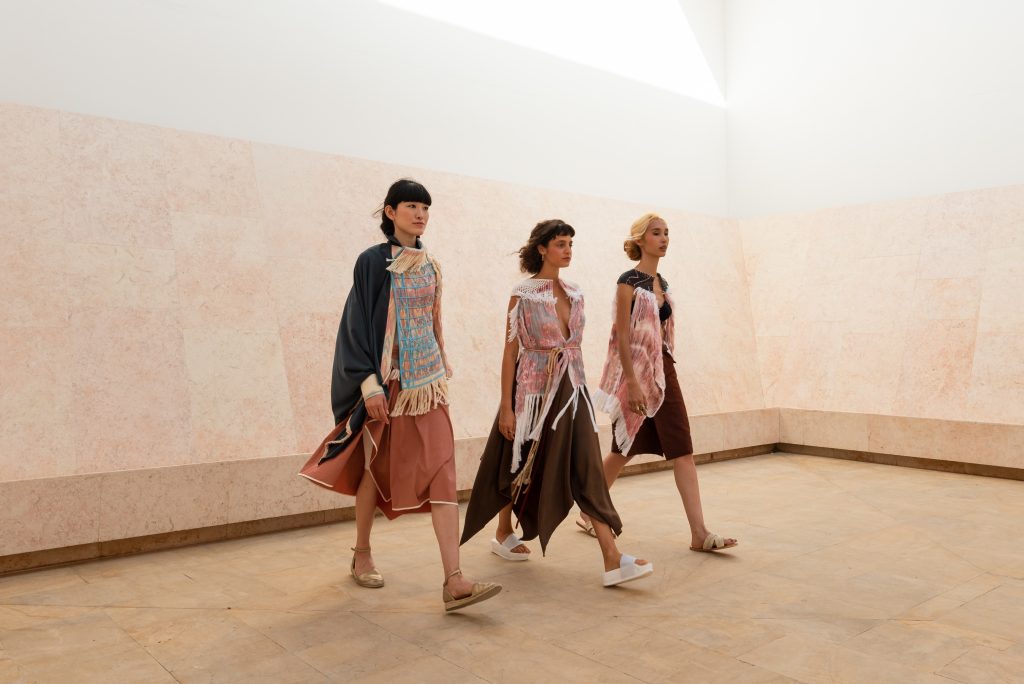 Craft refers to our ability, as humans, to touch, process, mold, feel, interact with materials in methods that differ in each culture (weaving, embroidery, knitting, wood making, etc…). Crafts have had an essential role in developing cultures throughout history. It is a language on its own. In a way, it is like literature, but rather, it tells us visual stories about society, working methods, values, social statuses. Craft has had a unique value in each culture and their development, and in turn, the development of the world. It comes burdened with nostalgia, for traditional processes and sometimes coming with values that are already gone.
I believe that the sequence of past and future time in crafts explains further down objects, garments and our society. Fashion and textiles from the craft perspective is not only a living tradition at one hand, but also reflecting of innovation and experimentalism from our history. I believe that includes a conceptual and artistic thought that I believe, does not contradict industrial and useful motivation.
Moreover, after several years of work on this topic I could notice that , crafts bringing together senses, expressions, dedication and the quality of trial and error, which in my working process, in many ways, can be connected to design in 3D software. The combination of CAD, industrial techniques and craft is therefore absolutely possible and even opens new ways and possibilities.
Can we incorporate the futuristic techniques of 3D printing with the ancient craft?
The processes I am working on in this project refer to the development of new system of production based on body scan data for customizing fashion garments. But the unique combination of traditional handmade processes is not only guiding me from the design aspect, but also in the essence of understanding handmade processes, which allow me to transfer this knowledge to produce the new textiles. That involves 3D Printing, dyeing yarns, hand weaving, digital fabrication methods alongside the developments of shape-shifting structured garments. I am working with 3D design software, designing over a specific body scan which allows me to design and produce garments that are fit to measure to the exact curves of a particular body.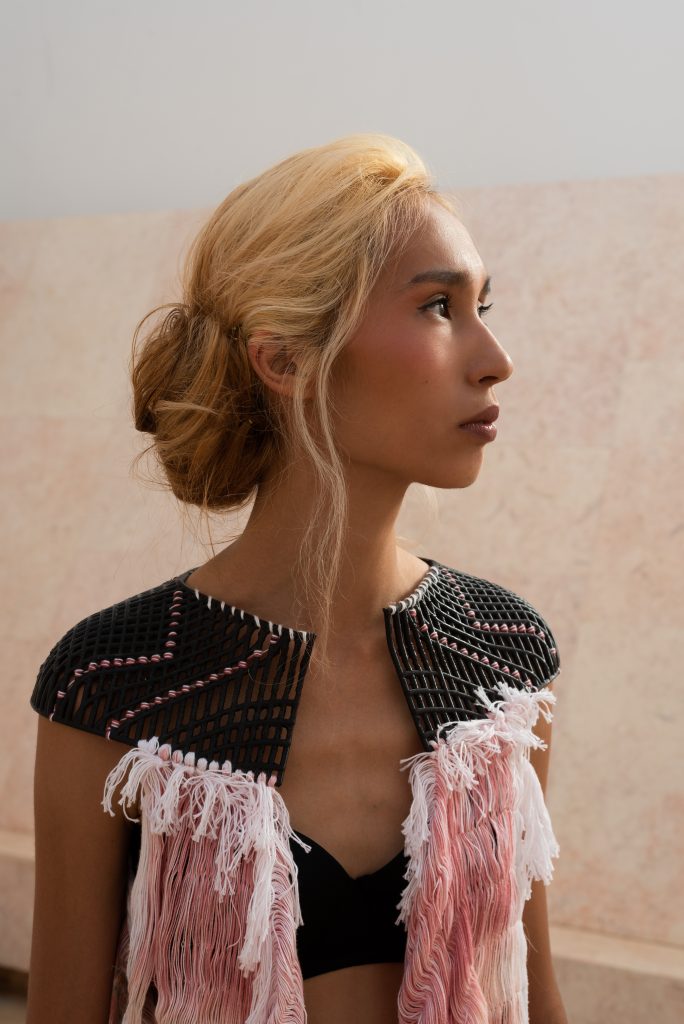 I believe that the ability to design outfits and shoes with specific measurements brings the customized Fashion one step further – allowing me to use the technology to get fit-to-measure garments in the best manner, stepping back from mass production processes. By that- I mean Tailor-made garments together with 3D printing techniques open up a new ground thanks to body scanning that makes it way easier to open the Possibility to automate the tailor-making.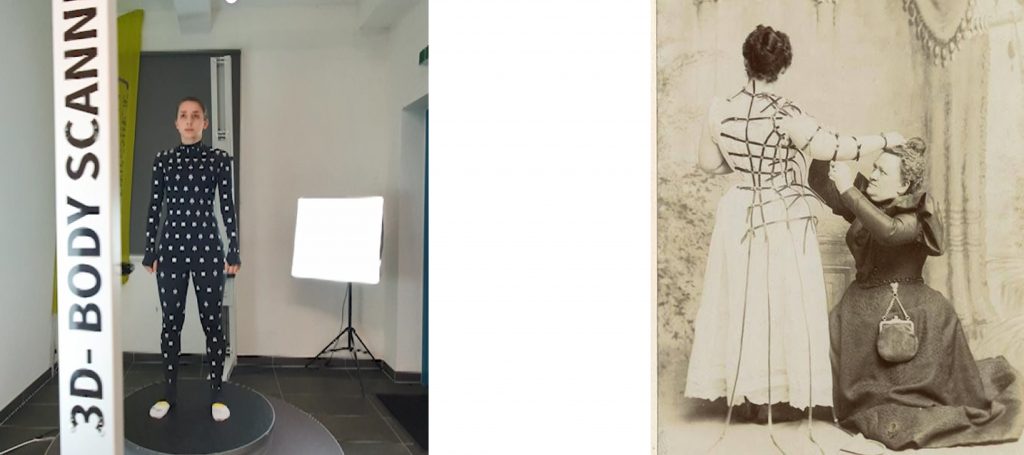 SUSTAINABLE FASHION SYSTEMS
My research around manufacturing processes is taking an in-depth look at the study of the history of fashion design from past times to these days – from tailored garments and status symbols. As we speak about Fashion, it's a complex term, which connects social and psychological aspects, creating an individual identity.
Our planet is exploding from the amount of clothing produced each year.
As a society, we purchase 400% more clothing today than we did just 20 years ago. Just in America, 14 million tonnes of garments are thrown away each year, which end up in landfills. That leads me to think about the benefits of using technology to break this system of overconsumption, thinking about how to produce clothing that has more high value for the consumer. The shift to production on demand for specific needs of the consumer will be the key for changing how we purchase clothes. In order to reduce the overconsumption behaviour, we need to bring back the high value of the product that shouldn't be as easy to replace or thrown away.
As fashion cycles are moving faster than ever, Brands are churning out new styles more frequently. We need to transform the production methods to change consumer behavior.
As a fashion and textile designer, I believe that design has the power to invent new production methods, using creativity and cutting edge technology. We need to shift immediately – from mass production systems, to consume fashion garment, on demand, without waste.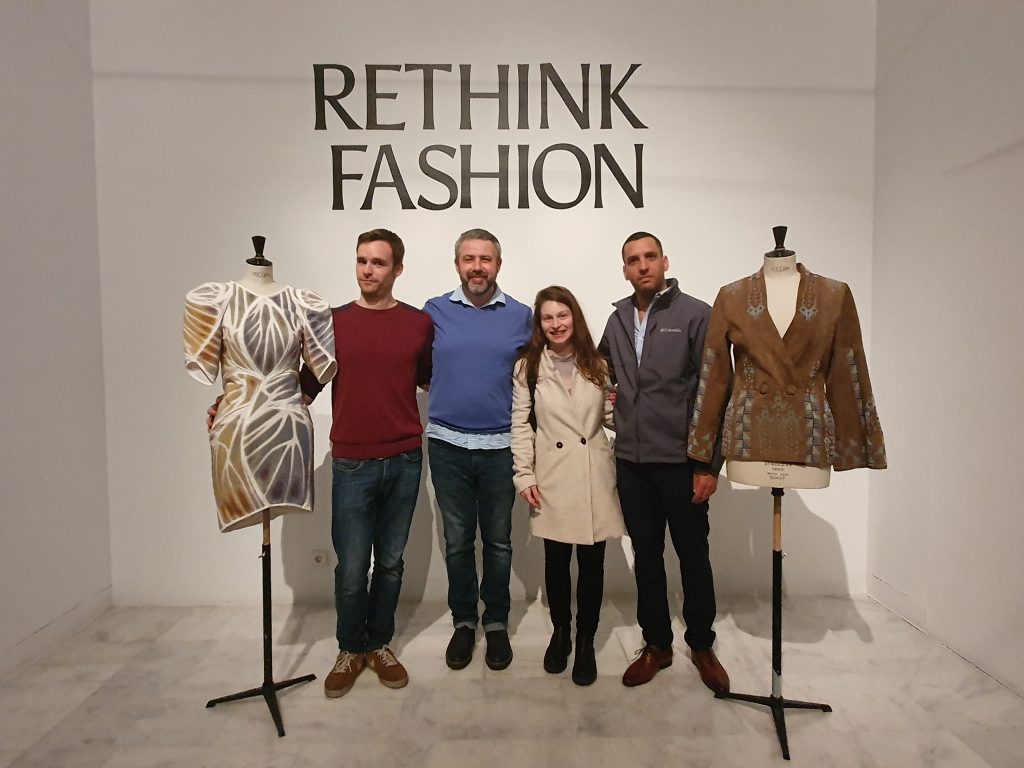 With the great team in Austria and Israel – Haratech, Profactor, Stratasys and University of Art and Design Linz, Department of Fashion and Technology, my most recent work in Re-FREAM deals with the process of garment production using 3D body scan, and by that, creating customized clothing to the entire body and dimensions, while the outcome is a garment 3D Printed onto fabric along with the combination of traditional textile techniques. We are working together on the development of pioneer techniques, not only for producing the garments themselves, but the entire method to create the base of the new textiles system. The next steps in my project also consist of 3D woven garments with the ability to have shape-shifting structures using the data of the body scan.
keep updating for future developments! meanwhile- check my website for previous projects combining 3D printing and crafts 🙂
---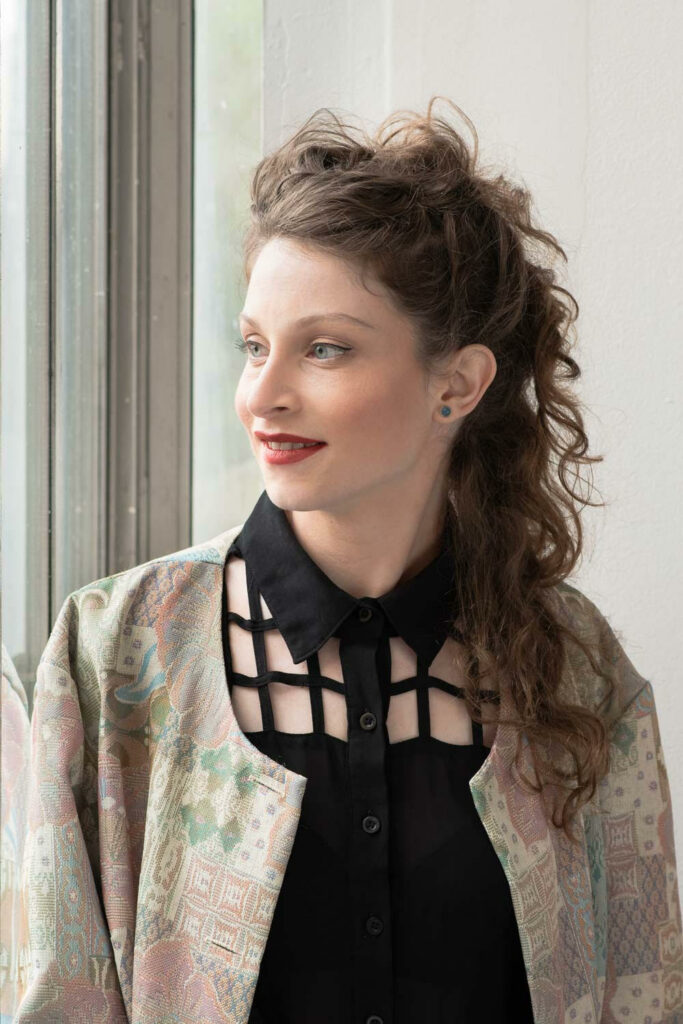 Ganit Goldstein studying Smart Textile Developments for Masters Degree at the Royal Collage of Art in London, specilaizing in Soft Systems. As a 3D fashion designer Ganit's interest lies in the intersection between Craft and Technology, predominantly working to incorporate 3D Printing and scanning into 3D Textiles.
For her works, Ganit creates pioneer Textile research-based methods, applying new techniques in innovative collections of garments and shoes.
Her works Presented at exhibitions and museums around the world including: Milan Design Week, New York Textile Month, San Francisco Asian art museum, Munich Jewelry Week, Holon Design Museum, and more.
---