We arrived at our HUB in Alcoy, Spain!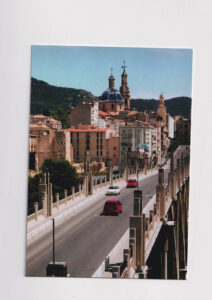 Hola! After a few stressful weeks in Germany, preparing and finishing all the base material (New Blue Craft and New Blue industry), we arrived in the beautiful city of Alcoy, Spain. Here our HUB is situated in an old monumental building in the middle of the city. The two companies that we are going to work with are located in the same building. We have a little office in the same building we share with the two other amazing awarded artists Loreto Binvignat Streeter and Alexander Bello.

We first got introduced to the teams working in the research centre; Aitex and Care Applications. The first days were immediately working with the teams and the technologies they offer. We only had a week or two till the mid term presentation!

As written in our proposal we wanted to work with the Ozone- and laser technology of Aitex and the innovative dyeing and wear treatments with Care Applications. We initially started with Ozone tests to gain lighter fades of the New Blue material. Continuously we were working on laser engraving technology and dyeing processes with Care Applications.

Being in the research institute, opened up a new world of potential as well as more information to process. We had to work fast and efficient to make sure that all trails and treatments are documented and archived well. We needed to learn fast about dyes and their processes. At the same time we need to learn how Aitex and Care Applications are using their innovation to disrupt the conventional market of dyeing in the fashion industry. We needed a crash course in dyeing and wear effects… Thanks to the amazing team of Care Applications and Aitex they put all their effort into explaining how things are working in a conventional way and how they are using their innovations to reduce chemicals, water and energy in the dye and finish treatments.

The first samples with Ozone were promising and seemed like a finished chapter. We were surprised about the fast result and didn't really know how to continue with that. Simultaneously we worked closely together with Care Applications and tried conventional dyes to give New Blue a typical raw denim color with the combination of Indigo and Sulfur (The dyes are not sustainable, but the use of the EcoFinish machine of Care Applications can absorb all water and chemical leaving no waste after washing).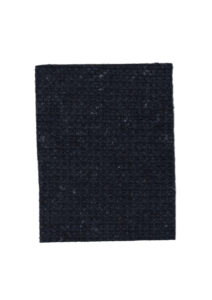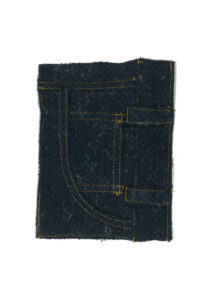 One technology that we anticipated to give us a great outcome but didn't work was the laser technology to engrave patterns into textile. Conventionally this works really well with denim fabric as the weft is white and the warp is blue. Engraving a layer reveals the white weft. This does not work with New Blue as the material itself is the same colour structure throughout the material, so removing a layer does not create a contrast colour as hoped. In conclusion, it just does not work with the non-woven material we are working with.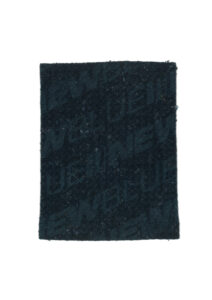 We continued to work further on the Indigo dye and various wear effects/treatments with Care Applications. We discussed how to continue with Aitex and asked them to create natural dyes together. We wanted to do treatments with the pigment of Logwood (Haematoxylum campechianum). This root is typically used for dark purple colors and has the potential to go more towards blue. Our challenge was to find a radiant blue/purple color that could supplement the collection of New Blue.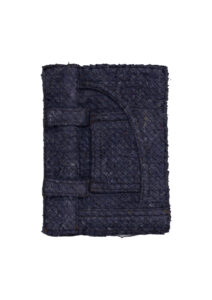 The Logwood dyes are a challenge both for us as the technicians. We had to put maximum effort into understanding natural dyes and how it is applied with the innovative technologies of HUB Valencia. We learned a lot on how dyes are working: mordanting, washings and post treatments. All parameters are essential and can make major changes in the composition of New Blue. The first try outs did not succeed. Too much pigment and iron was added. In the end the treatment was not compatible with the industrial standards. We insisted on continuing and changing the parameters on lower energy, chemical and water input. The outcome was beyond expectation. We co-created a very vibrant dark blue/purple color that adds to the values of the New Blue collection and principles.

With all the samples we did in Spain, we are now back in Berlin analysing and archiving all of that. We have to decide on which tryouts are most promising both in aesthetics and circular economy. From that we are prototyping 2 to 3 outfits with various accessories for the end of the Re-FREAM program. We are very thankful for all the effort and time that the people of Aitex and Care Applications put in our project and we will be back soon! Adiós!