Wear It Live – FashionTech at Berlin Fashion Week 2021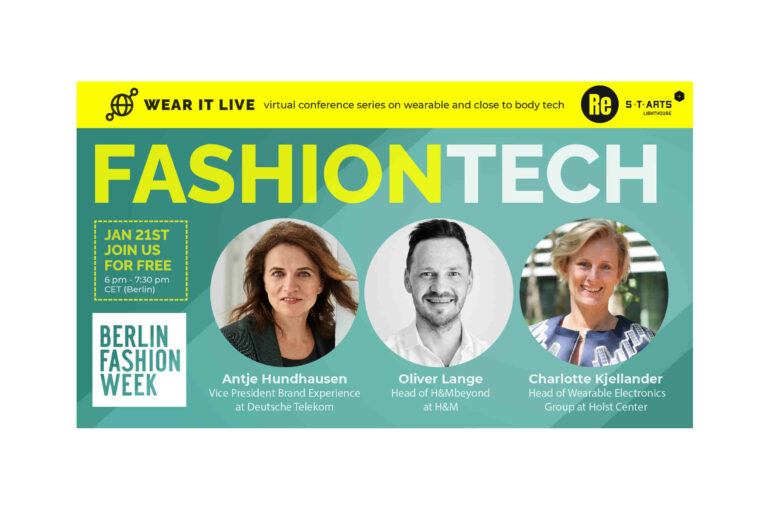 Fashion industry follows different rules than electronics, and with innovative technologies in material procurement and fashion design and smart materials, the world of FashionTech is growing at a rapid speed. What distinguishes the fashion industry from the electronics industry and how the new common space here can connect both industries and promote new business models.
The FashionTech event is taking place within the frame of the Berlin Fashion Week and we are proudly working together with the Berlin Senate.
In this edition of "Wear It Live", we invite experts from all related fields of fashion and technology to discuss the future of digital fashion and dive into the world of smart textiles, taking place on Thursday the 21st of January 2021 at 6 pm CET
With more 15+ international brands like H&M Lab, Telekom Germany, Holst Center, and the Re-FREAM artists and technical partners from all three hubs: Berlin, Valencia and Linz, this event already has become the biggest digital event/platform for FashionTech for 2021.
Until now, there are already more than 230 registrations, so hurry up and get your free ticket!
Thursday, January 21st, 2021 at 6:00 pm – 8:00 pm CET
Panel Discussion (45 min)
Startup Pitches (30 min)
Re-FREAM Block (45min)
Product Pitches: 30minutes
Breakout Sessions: 15minutes
Networking (30 min)
Expo (30 min)
The audience can visit the partners' virtual company booths and network.