Wear It Innovation Summit 2021 (Online Edition)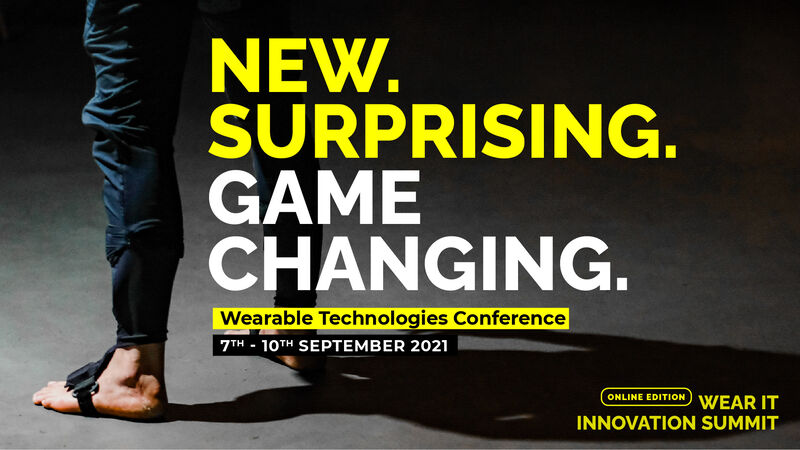 NEW. SURPRISING. GAME CHANGING 
This year's Wear It Innovation Summit coming back online ! Wear it Berlin is organising a 4-day event from the 7th September to 10th September 2021, to bring together cross-industrial experts involved in wearable technologies.
Already in its 8th year, the Wear It Innovation Summit is Europe's leading conference and platform for professionals in the wearable technology business. Showcasing wearable technologies and their applications in commercial products, this event is the place where game-changing startups and innovators meet today's industry leaders and executives. Wear It Innovation Summit aims to connect C-level cross-industrial decision-makers and bring the most innovative and game-changing solutions and business ideas around wearable technology on a single platform.
Wear It Innovation Summit will be spread across four days: 7th -10th September 2021 each day from 5:00 pm CET till 7:30 pm CET (11:00 am to 1:30 pm EDT and 8:00 am to 10:30 am PDT) as per the following schedule:
07th September 2021: FashionTech, Smart Textiles And Sustainability
08th September 2021: Diversity, HealthTech And Wellness
9th September 2021: Cross-Industrial Start-Up Show For Wearable Technology
10th September 2021: IoT, Blockchain And Sensors With Wearable Technology
Free Tickets and information can be found here.
Re-FREAM Session 
Artists and partners of the Re-FREAM project will be present at the event during a dedicated online session. They will have the opportunity to show their work and discuss their experience. This interactive session will enable members of the audience to ask questions and start a discussion.
Videos of the event can be found on Youtube here.