The New Normal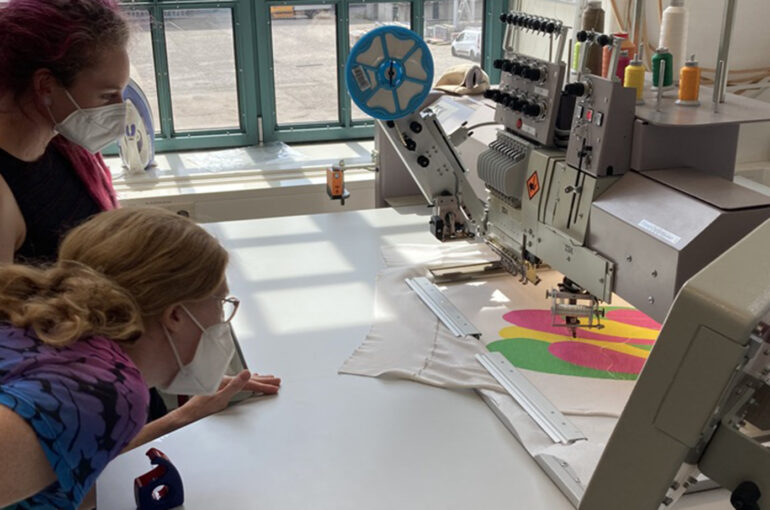 I recently spent five weeks in Berlin at the Fraunhofer IZM and a few days at Stoll in Reutlingen. It was an enriching experience to work and collaborate with a team of like-minded scientists, fashion and textile designers, as well as engineers. Together, we were able to problem-solve, brainstorm and experiment with state-of-the-art embroidery and knitting machines to continue developing the project's next iteration.
I believe the future of fashion lies in embracing technology as a medium for experimentation, through new research ideas and tools. We developed and refined touch-sensitive embroidery testing methods for two sweaters that will eventually communicate with each other through touch and sound. Collaborating with the Fraunhofer team to Integrate the hardware and software with a tactile experience has been both challenging and rewarding during this entire process. Sustainability will also play a key role in the future of fashion, not only in terms of innovative modes of production but how we purchase and wear garments. This project contributes to that discourse through our exploration of engineered sustainable and 'smart' materials. In addition to minimizing a product's carbon footprint, designers can play a role in bridging sustainable practices and technology because we are creative problem solvers at heart.
At IZM we focused on testing embroideries made from different size cables embedded into a variety of stretchable jerseys and knitted textiles. The pattern had to accommodate the 70 cm x 70 cm maximum size of the embroidery frame so that the touch-sensitive design was spread over the back panel and sleeve areas. We had to think methodically and intuitively while developing a customized circuit board that includes touch and heat sensors, a Bluetooth connection, and a connection for a USB-C cable. Although this customized board will be visible on the garment, it will be integrated into the overall design. We also tested the first round of circuit boards with the sound software. The challenge was to calibrate and synchronize the touch and sound output, which was easier than expected. Through this project, I've found that my fear and anxiety around technology has lessened, and I now embrace it as a tool to play and experiment with. If one approach doesn't work, then we try another until we find the desired outcome.
My time spent with the Stoll team via zoom and in person was another inspiring experience. While designing my knit sweater, I was able to work with a technician to refine the textile on the Stoll machine. I was also able to work with a team of design experts and skilled workers to assemble an initial prototype for review before going into production. While in Berlin, I saw a number of sound and art exhibitions, including Diversity United, Hella Jongerius: Woven Cosmos at the Gropius Bau, Suzan Philpz's Soundwork Rosa in the courtyard of the KW Institute for Contemporary Art and at Konrad Fischer Gallery Berlin. It was wonderful to connect with old and new friends and take daily walks (Spaziergänge) in the city to capture sound/field recordings that will find their way into the software side of the ReFream project. The last two months will be focused on finalizing the prototypes and working towards the presentation in September.
Photo Ⓒ: Anke Loh, Anke Loh with Pauline Stockmann at the Fraunhofer IZM embroidery machine