Second Skins, building the fundament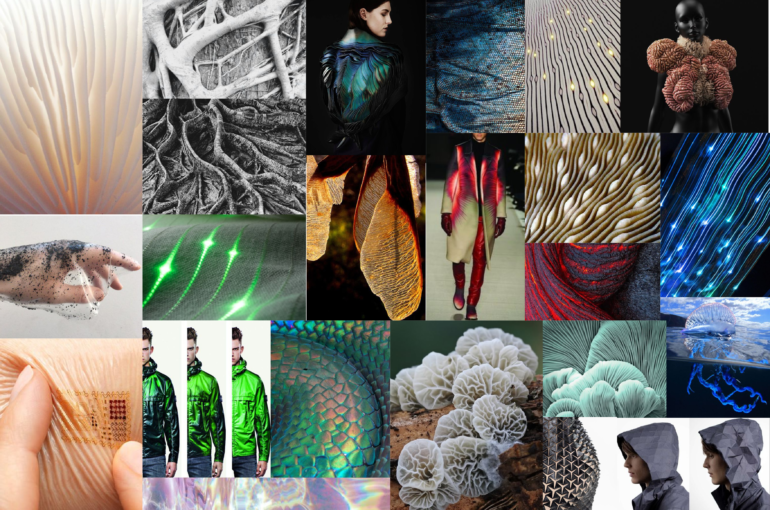 To develop a strong, coherent and relevant project, it is important to build a good foundation. Within this process, it is essential to always keep your main goals in mind. What are we working towards, why and for whom are we doing this? These questions helped us to define the three deliverables that together form the fundament of our project. 
First the context and scenario. Where do we want to make a difference and where can we generate the biggest impact? Are there specific social environments and situations where we can enhance communication and interaction? It is essential to approach these questions from different angles. On the one side, we view them from a user/wearer perspective. What are the current shortcomings, needs and difficulties? On the other side, we view them from the perspective of the fashion industry itself. How can we strengthen our relationship with and appreciation of our wardrobe? How can we stimulate the long term use of products? Viewing these questions from both of these vantage points will give us the insights we need to develop a project that serves different layers and parties within this field. 
  The second part focuses on input for the garment. What will generate and activate change within the garment? Which behaviours do we want to employ? How are we going to sense these and collect the data we need to activate the garment? How do we protect the wearer's privacy? This research is partly focused on user behaviour – in this case, body language and movement – but it is also a technical matter, investigating what sensors can we use to detect specific gestures and postures.
The third part concerns the output, the change within the garment. How are we going to visualize the change? How will this strengthen human to human communication? What are the current possibilities and usable developments within e-textiles? 
Co-creation
These three elements; context and scenario, input and output visualization, are not linear and will be developed parallel to each other. This way the developments, findings and areas of expertise of these different parts of our project get the opportunity to influence each other and have a steering role. Which in my belief is key for successful co-creation with an interdisciplinary team. Initially, there is no field more important and leading than another. All are equal and open to input from the other parties in the project. Divide and conquer! If we get inspired by each other's findings, we might spark new ideas that would not have occurred when we would have done a solo, single-disciplined project.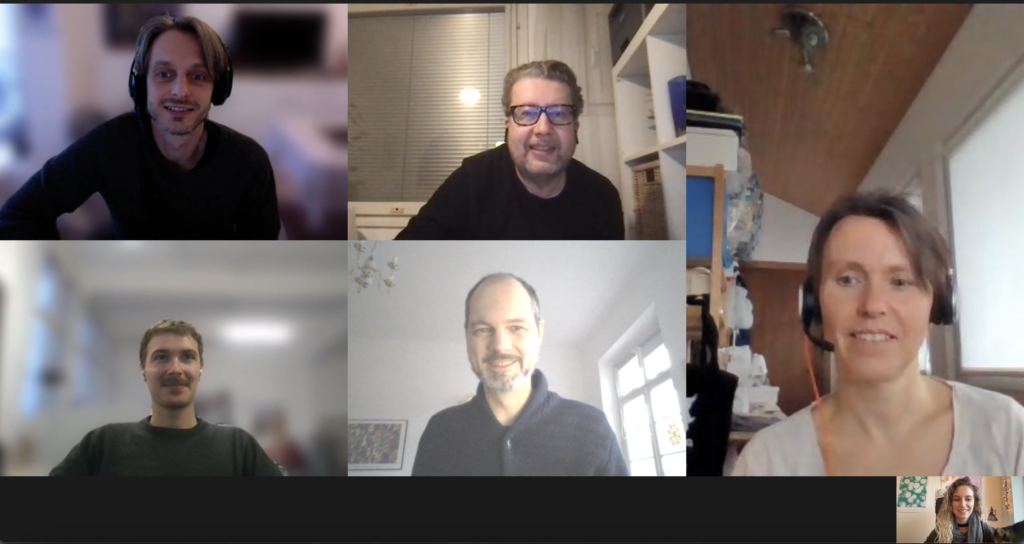 First digital team meeting with the partners
Inspiration 
From the beginning, I've recognized the importance of sharing my inspiration, motivation and aesthetic ideas with the whole team. Therefore, I used a digital platform to share mindmaps and brain dumps and I've developed mood boards to communicate my fascinations.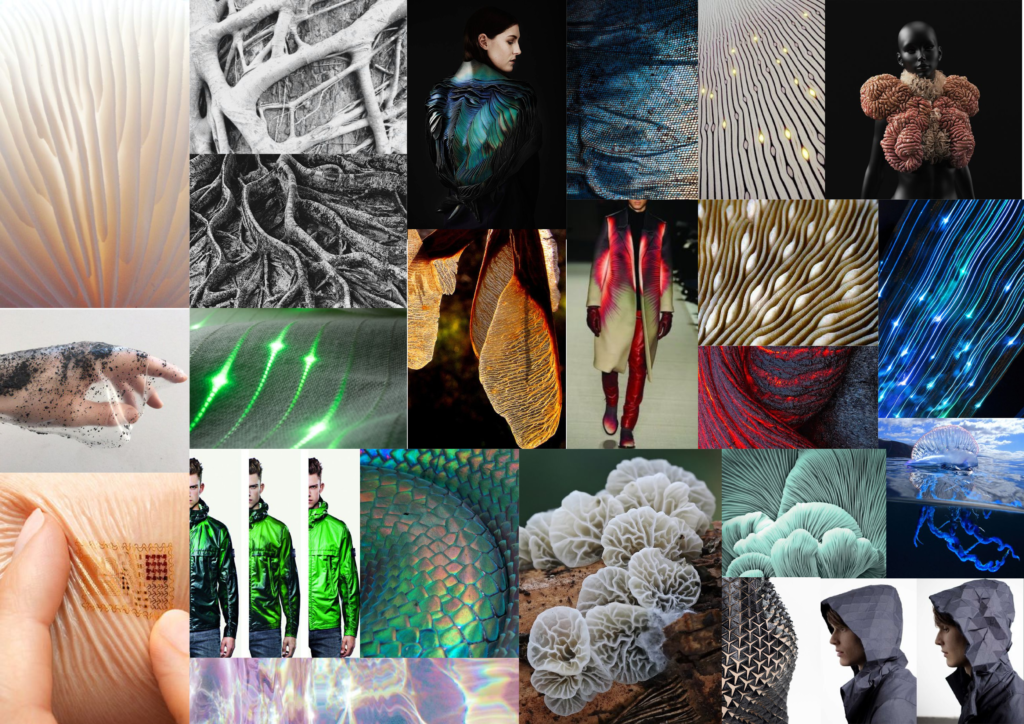 One of the first mood boards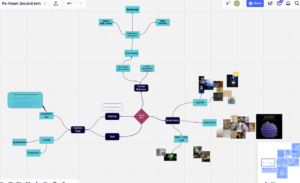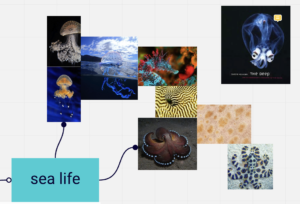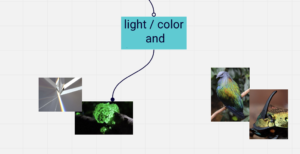 These are screenshots of our digital inspiration landscape. The concept of biomimicry forms a big inspiration in regard to structure texture and aesthetics 
Input and body language 
In addition to these mood boards, my research started with the context and input of the project. Building on my MA research from 2013 I dove into the field of human behaviour and body language. I listened to lectures, read books and finally looked for a body language expert that could help me navigate this brought and complex field. 
This is where Gerard Stokkink came into the picture. After he kindly agreed to have a few very inspiring digital conversations, it became clear why this is such an interesting yet difficult field to work with. Some notions really fueled my fascination, namely: 
– Body language cannot be consciously controlled; it cannot lie and is, therefore, the purest and fairest form of communication
– As soon as you start to direct and control gestures, we no longer talk about body language, but about the behaviour
– The question whether it is possible at all to map out all the gestures that form our body language and subsequently to attach different meanings to them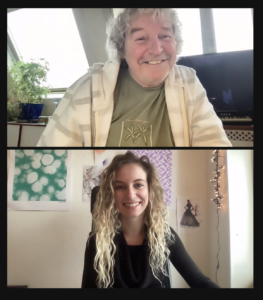 The first conversation with Gerard Stokkink 
To get a clear and complete understanding of the functioning of body language, Stokkink combines the knowledge of (yet again) different fields. Kinematics, behavioural theory, psychology, neuroscience and communication studies. Besides the complexity and extent of this field, there were also other aspects that made me realize how difficult it would be to use body language as a trigger. Gestures on themselves are meaningless unless they occur within the context of human interaction. It is the context in which they happen that is being interpreted and that gives potential meaning to them. Besides that, the gestures are so nuanced and subtle and can mean different things depending on the context in which they appear. Scratching your neck, for example, can be pacifying behaviour within interaction, but it could also just be the stopping of an itch. We are not sure if body language is reliable enough as input for e-textiles because there are so many factors involved that cause noise. Also, it is a fairly new field; reliability has been proven with micro-facial expressions, but not yet with body language and gestures.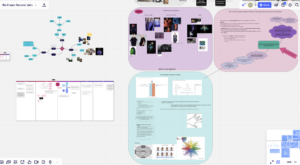 A screenshot of our digital inspiration landscape that keeps growing
The jungle of this field is so interesting and overwhelming that it becomes easy to get lost in it. And this is just the beginning, just one of the pillars on which the fundament of the project exists. It is time to refocus and go back to the main essence of what we wanted to achieve. What is the link to the fashion industry? What is the frustration that fuels this drive to change our relationship with the clothes we wear? What determines the choices we make in the morning when we get dressed? How much we want to stand out?
There we have it, the main focus of the project became clear: we want to develop a wearable that adapts to how much we want to stand out or become less noticeable based on our gestures and posture. This gave a clear direction to our research on the potential scenario and context and also for the input of the garment we can now focus on specific gestures and postures that are related to how much we want to stand out.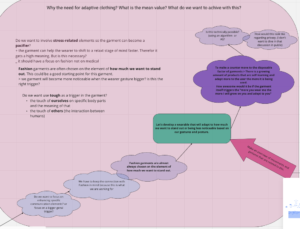 Close up of the mind flow towards our main objective 
But this is just the beginning of our journey. Stay tuned because in the next blog post I will lead you through our quest to define the design principles, find our relevance within the industry and start the hunt for usable re-active textiles.