Fragments Garments #8 – Covid-19 Seamless Facial Protection Masks

Facing an Unprecedented Event
Like all artists, designers, scientists, and technicians from the Re-Fream crew, I have been deeply impacted by the consequences of the Covid-19 crisis. As explained in my previous post, I was in a co-creation residency in Austria when the government decided to close the borders and cancel all flights departing to France, so I had to go back home as soon as possible before those new regulations enter into force. Once I arrived in Paris, I was unable to go back to my flat which was rented during the 3 months I was supposed to spend working with my industrial partners abroad. The next day rumors of a French lockdown began to grow, and I just had the time to take my cat and my luggage and to jump in the last train for the South of France before the quarantine was pronounced. I ended very luckily safe in my parents' house with a nice garden, but I had absolutely nothing to work with me but my computer.
A Designer's Contribution to the Covid-19 Crisis
Luckily a colleague from Austria managed to send me a parcel with some of the stuff I had abandoned there when leaving. In this I had one meter of a cork material glued on fabric which can be easily cut with scissors and cutters and which can be used with raw edges, so, like every designer left alone in such a situation, I began prototyping with it.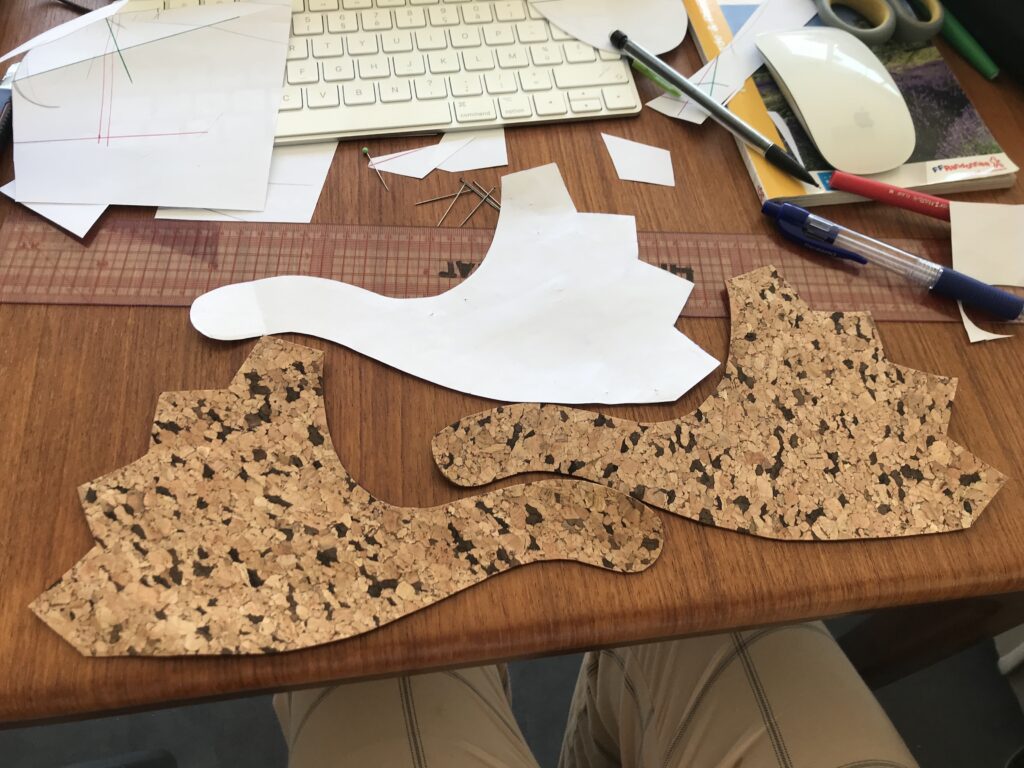 During that time, some friends in Paris were deeply involved in facial protection masks conception and fabrication to help healthcare workers. After watching tutorials, and questioning those friends, I discovered that those masks are often complex to assemble, so I decided to try to conceive a seamless mask that the user could mount on his/her own in a quick and easy way.
The first four prototypes were relying on a downsized interpretation of my signature seamless interlocking attachment system found in my modular clothing collections, but after few days the French government explains that a median seam in the middle of the face was not recommended by scientists as it could lead to virus leak.
So I entered a new prototyping phase, looking for new shapes and systems. As my quantity of fabric available was very small, I always started by doing paper mock-ups.
I improved the shape and the size to allow for 25 masks to be cut in one cut using a 70x100cm laser cut machine and minimizing the textile waste. The manual assembly of the seamless mask takes less than two minutes for a non-skilled user.
When I finally got the chance to go back home at the end of the quarantine, I launched a mini-production of those masks in different light cotton and linen waterproof fabrics for family and friends.